What Makes Holiday Crafts
For Toddlers So Much Fun?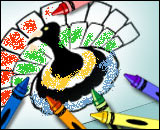 Holiday crafts for toddlers are the best! It can be so much fun creating little treats with a theme in mind, from Christmas to Valentines Day and even Easter. Every holiday is fun for creating new and exciting crafts. You don't have to have a specific reason for crafting, but it does make it nice, especially for Mother's Day.
When crafting with toddlers, you can make fun and easy crafts that are perfect for their little hands. It can start them out at an early age to develop a love for making their own gifts to give to family and friends. Crafting will also help your child learn more about their family and holiday traditions.
My three year old loves when we have craft time and make our own creations. What a joy it is to also have the time spent together. I have come up with some great crafts for toddlers. I hope that you and your family enjoy them as much as my family does. We are going to start out with some Fun Thanksgiving Day crafts for your little ones to enjoy. Don't forget to get out your"Craft Bag" and let's start crafting.
* TURKEY HANDS *
Items You Will Need:
Construction paper: Orange and black, red (variety of colors optional)
Googly Glue on Eyes
Glue Sticks
Feathers (optional)
Child Scissors
Pencil
Directions:
Start by taking an orange piece of construction paper and tracing your hand and your toddlers.
Cut out the hand print. This is going to be the base of your turkey.
Use the thumb as the turkey's head. Glue on a googly eye. You can cut out a little red piece for the neck. Glue feathers on each finger. Or else you can cut out feathers out of construction paper and glue them on. These crafts for toddlers make great decorations for around the house!!
* THANKSGIVING DAY PLACE MATS *
These are a joy to have on the table for your important meal!! Any crafts for toddlers are a joy to make and even to save for years to come!!
Items you will need:
Construction Paper
Markers / Crayons
Stickers
Clear Contact Paper
Photographs or Pictures
Directions:
You take a piece of construction paper and allow your toddler to decorate it as they wish. With family pictures or stickers, any way they want to. For Example: You can draw pictures of turkeys and allow them to color. Glue feathers, use stickers and just let your toddler have fun with it.
When they are all done then take the clear contact paper and cover their creation. These are great for the table for Thanksgiving Day!!
* THANKSGIVING DAY PLACE CARDS *
It is a must to have place cards to go with your place mats. These place cards are Fun to make and cute to look at. It is so nice to turn your crafts for toddlers into actual items you use!
Items you will need:
Blank Place Cards or fold pieces of construction paper
Washable markers
Nontoxic Ink Pad
Directions:
Allow your toddler to press their thumb into the ink pad and then on the paper to create the turkey's body. Repeat to create head and feathers.
Use Markers to complete your turkey with a beak, wattle and feet.
Add names to each place card for your Turkey Dinner Guests.
* THANKFUL TREE *
Items you will need:
2 yards of Brown Felt
Pieces of Green, Yellow and Orange felt
White Construction Paper
Washable Markers
Glue
Velro
Directions:
Draw a tree trunk out of the brown felt. Make it as large or small as you wish.
Make and cut out leaves from the different colors of felt.
Cut out strips of the white paper and glue a strip on each leaf.
Help your toddler come up with some things that they are thankful for and write these things on the leaves with marker. You can even have your toddler draw on some of the leaves.
Put your tree together with the Velcro and you are ready to go.
This craft is my favorite craft of all. I find that these crafts for toddlers are a true gift. We can sometimes lose sight of what is truly important in this life. We are truly blessed and we must teach our children even at a young age the importance of being thankful. They should understand the meaning of truly giving thanks, and being blessed for all that they have.
I would like to add a personal note that I was encouraged to pass this message along. During this holiday season of thanks remember those who are not as fortunate. Understand that yes family is important but it is also just as important to serve others and to pay it forward. I encourage you to please look into your hearts and pass along any gift of yourself. It doesn't have to be a monetary gift it could be more valuable like for instance your time.
Our family gives our time. On Thanksgiving Day we will take our 3 year old and he will help us serve the homeless Thanksgiving Day meals. The importance of doing this young, will help mold him into the man he will become. He will take this with him and every Thanksgiving to come I know he will value the time he gave and will continue to give throughout his life.
So I encourage you, to please give anything that you can. It is important to make a difference on any level. So as you enjoy these crafts for toddlers, give thanks to all the blessings in your life. Please think about giving more of your time to others who need it too!!
Thank you and have a Blessed Thanksgiving!
Fun Christmas Toddler Craft Ideas.
Great Toddler Craft Ideas for the holiday season and more. Learn fun things to do with your children along with the entire family.
Toddler Christmas Pajamas And Other Family Traditions.
Read how Toddler Christmas Pajamas became our favorite family tradition. Learn what the holidays mean to me and my family.
Easter Crafts For Toddlers
Great Easter Crafts For Toddlers that the entire family will enjoy making. You will learn egg decorating tips and much much more......
Art Projects For Toddlers that are fun for Valentines Day.
Arts And Crafts For Toddlers that are great for Valentines Day. The entire family will have so much fun creating these special holiday treats.
Toddler Mothers Day Crafts That Are Fun And Easy To Make
Toddler Mothers Day Crafts can be enjoyed by the whole family. Learn great ideas for that special gift for the best woman ever on her special day.
Leave Thanksgiving Crafts For Toddlers for Toddlers Home