The Truth About
Toddler Developmental Milestones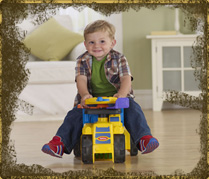 Your toddler's developmental milestones can be charted through their behaviors. That is why it is so important to monitor the development of your toddler. Between the pediatrician and the parent a potential problem, for example autism in toddlers can be detected early. This is why hitting milestones can be so important.
These milestones are behaviors that emerge over time, and form the building blocks for growth and continued learning. Some of the categories within which these behaviors are seen include:
Gross Motor - controlling the head, sitting and walking
Fine motor - -holding a spoon, picking up a piece of cereal between thumb and finger
Sensory - seeing, hearing, tasting, touching and smelling
Language - being able to talk and be understood, and understanding what parents and other children say
Social - the ability to play with family members and other children
Developmental Milestones Age One:
By their first birthday, most babies should be able to:
Crawl
Pull self up to stand
Walk holding onto furniture, and possibly a few steps without help
Say dada and mama
Use exclamations, such as oh-oh!
Responds to no when you tell them
Shakes head no and waves bye-bye
Throws toys and sippy cups. Bangs everything on high chair or tables
Begins to drink from a cup correctly and can use a toddler fork ans spoon correctly as well
When you name an item they will find the item correctly
Sit
Get into hands-and-knees position
Developmental Milestones Age Two:
Uses 10 to 20 words, including names
Combines two words like mommy bye- bye
Waves good-bye and plays pat-a-cake
Makes the "sounds" of familiar animals
Gives a toy to you when asked
Uses words such as "more" to make wants known
Points to his or her toes, eyes, and nose
Brings object from another room when asked
Walks alone
Pull toys behind them while walking
Can carry a large toy or several toys while walking
Beginning to start to run
Kicks a ball
Climb on and off furniture without help
Walk up and down stairs while holding on to support
Scribbles with a crayon
Recognize names of familiar people, objects and body parts
Say several single words (by 15 to 18 months)
Use simple phrases (by 18 to 24 months)
Use two- to four-word sentences
Can follow simple instructions
Begin to sort objects by shapes and colors
Begin to play make-believe
Imitates behavior of others (Be careful even the negative behaviors...)
Understands what no means
Developmental Milestones Age Three:
Identifies body parts
Understands simple time concepts: yesterday, tomorrow
Refers to self as "me" rather than by name
Tries to get adult attention: "Look at me Mommy!
Likes to hear same story repeated, or repeat the same game you are playing together
May say "no" when the actually mean "yes"
Talks to other children and adults
Can answer your questions
Names common pictures and things
Carries on 'conversation' with self and stuffed animals or "friends as my son calls them
Asks "what's that?" And "where's my?"
Uses 2-word negative phrases such as "no want". My son also will say "I wanna hold you" when really he wants me to hold him, it is so cute.
Forms some plurals by adding "s"; book, books
Gives first name, holds up fingers to tell age
Combines nouns and verbs
Uses short sentences like "me want more"
Matches 3-4 colors, knows big, from little
Remember that is why it is so important to monitor what your children are exposed to. They are like little sponges absorbing what they see and hear. It is learned behavior. You want them to be in a positive environment. Make this a priority parents, please. If your child hears manners then as they learn to talk, they will use manners as well. It is the same with their actions. They will follow you, so keep that in mind with the decisions you make.
You just want a healthy child. This is why their development is so important. Every milestone in their little life is important. Development however gets top priority in my opinion.
** I am not a Doctor or Licensed Professional in the field of developmental milestones with your toddler. I am a stay at home Mom passing on tips, advice and information that are based on my opinions. Always remember to consult your pediatrician with serious questions concerning your child and their development. Some of the information on this page was obtained by our family pediatrician.**

Leave Developmental Milestones for Toddler Development

Leave Developmental Milestones for Toddlers Home