Are You Searching For
Preschool Activities For Your Toddler?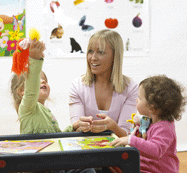 Preschool Activities are important to start out early with your toddler. You will want to start your children learning early. This can be achieved through activities and crafts. As the theme of my site is Toddlers Are Fun, learning can be just as FUN. I am going to share some activities with you and some other great sites as well.
Letters and Numbers and Coloring Pages
You can easily start your toddler out with this great activity. You yourself can write a letter on a piece of paper and just allow your toddler to color it in their highchair. I used to do this with my son. You can also find some great printables at this site as well. Print out some letters and let them color away!
Holiday and Seasonal Themed Activities
Again it doesn't matter whether or not your toddler understands. They will still be learning. You again can talk them through as they are coloring. You will be amazed at how much they will love doing this. I found another great site with amazing activities. The Preschool Rainbow has some Fun ideas!
Riddles and Counting Activities
Imagine your toddler being able to count early? It is amazing how easy it can be to help your toddler learn. This site has some really great ideas for just this. Check out Meddy Bumps
Online Games for Toddlers and Other Sites
I actually have an entire page with sites for Fun Toddler Online Games. There is a site that has a little bit of everything for toddler activities. You can have coloring pages, online games and more. So check out this site for that.
Kinesthetic Learning Activities
I read an article on this approach and I have found it very interesting and informative. Read this article and find different ways to teach your toddler new and exciting ways of learning.
Arts and Crafts
Preschool activities are great Fun! Arts and Crafts are amazing for teaching your toddler. They enjoy making creations and spending time with you as well! Start them out early parents. For other great ideas check out this site Ziggity Zoom for other great ideas!
So you see, you can have fun with these great toddler activities. Another great site for toddler preschoolers activities check out Jacky's site. She has some really great ideas. I hope that you understand how important learning is at any age...Take Care!
We are also promoting a wonderful Preschool worksheets and Preschool Printables E-book.
These wonderful book sets are a simple, easy to follow preschool curriculum. It has step by step preschool lessons, preschool printables, and preschool worksheets.
Are you looking for preschool themes to help your child learn? Children learn from the world around them. "Children who are read to, will want to learn to read and write in their own time, and will also require much less 'teaching', if they are not pressured to do so before they are ready." Shirley Erwee is the author of ABC Fun & 1-2-3.
Perhaps you are looking for preschool books to read, preschool songs to sing or preschool games to play. This book has it all.With this preschool program your children will learn about the alphabet and numbers in a relaxed and fun manner, using whole books and real life experience and by doing activities that are appropriate for preschool children. ABC Fun & 1-2-3.

Return to Preschool From Preschool Activities

Return to Toddlers Home from Preschool Activities