How To Know If Your Toddler
Is Preschool Ready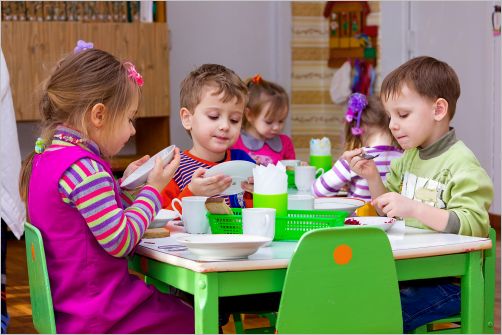 My son loves going to preschool. I felt that it was important that he started as early as possible. He started when he was 2 1/2 years old. However, he was ready. Every child is not ready. There are certain factors to keep in mind to know whether or not your child is ready.
Potty Trained
Most schools will not accept any children who are not potty trained. That would be considered a daycare where they would need to change diapers or pull ups. Your child must be able to go to the bathroom on their own and be able to independently wash their hands, eat snacks etc. my son could not button his pants so I had to make sure he wore pants with no buttons or else jeans with snaps so that he was able to use the restroom with no trouble.
Separation Issues
When your child begins, they will miss you at first. Especially if you are a stay at home Mom. You would be surprised though at how well your child can actually adjust. When my son was a baby, he wouldn't even stay in the church nursery. He would scream and get so upset. I was home with him all the time so I thought he would never do well when preschool came around. Well he did. He loved going and I never had to fight him to go back every day. It's important that you transition a child into the process. My son started the first year going only two days a week. The next year he was going three days a week. This year is his last year and he will be going 5 days a week.
Does your child stay on a schedule well?
Preschools usually follow a predictable routine: circle time, play time, snack, playground, then lunch. There's a good reason for this. Children tend to feel most comfortable and in control when the same things happen at the same time each day. So if your child is not on a schedule and each day is different from the last, it can help to standardize his days before he starts preschool. Start by offering meals on a regular timetable. You could also plan to visit the park each afternoon or set - and stick to - a bedtime ritual (bath, then books, and bed).
Working well in group settings and with other children.
Many preschool activities, like "circle time," require that all the children in a class participate at the same time. These interactions give children a chance to play and learn together, but also require them to sit still, listen to stories, and sing songs. This can be very difficult for kids under 3 who are naturally active explorers and not always developmentally ready to play with other children. If your child isn't used to group activities, you can start introducing them yourself. Take her to story time at your local library, for instance, or sign her up for a class such as tumbling to help her get used to playing with other children.
Physical Stamina
Whether it's a half-day or full-day program, preschool keeps kids busy. There are art projects to do, field trips to take, and playgrounds to explore. Does your child thrive on activities like this, or does he have trouble moving from one thing to the next without getting cranky? Another thing to consider is how and when your child needs to nap. Preschools usually schedule nap time after lunch. If your little one can keep going until then or even all day like a wind-up toy, he's set. If he still needs a mid-morning snooze, it might not be time yet to go to school. You can work toward building his stamina by making sure he gets a good night's sleep. If you have some flexibility in your schedule, you might also want to start him off in a half-day program to ease him into the hustle and bustle of preschool life, and gradually increase the length of his school day as he gets more comfortable.
Finding a School:
Here are a few tips you may want to consider when you are searching for a preschool.
Ask around. Talk to family and friends. This is how I found my son's school and I was glad I did.
Visit several schools. Don't just decide on the first one you see. Explore your options.
Affordability. Make sure that you go with a school that your family can afford. Just because a school is expensive does not mean the curriculum is better. It does not mean that it isn't either. I would make sure the school curriculum meets your child's needs.
Preparing for Preschool
I have some ideas that you can try with your child to prepare them for this new journey. It is important that you make them feel excited about going to school and not anxious.
Take them to the school to visit. Allow them to look around, visit with the teacher, play and get a feel of the place. We did this to my son weeks before he started and it really helped.
Go to meet the teacher day or an open house.
Allow your child to pick their own backpack and prepare the backpack for school. This makes them feel like they are making their own decisions.
Make sure your child is self sufficient. Make things easier for them. As I said above, make it as easy as possible for them to go to the restroom on their own. Make sure they can wash their hands etc.
As parents we should work with our children academically. My son is 4 and can write his name on his own. I have worked with him since forever. We cannot just leave it up to the school, we must do our part to prepare them as well. I have some parenting tips that will help you with this stage in your child's life.
Preschool is to prepare our children for kindergarten readiness. You would be surprised to know how much they really should know prior to entering school. It is important that you research the best options for you and your child. Have a Great school year and Happy Learning..:)
Return To Toddlers Home From Preschool Page