Are you searching for
Single Parenting advice?
Single parenting can be difficult and stressful. I wanted to address those parents who are raising their children on their own. You are amazing and so very important. The responsibility of being a sympathetic mother plus a strict and providing father at the same time can be overwhelming. It can be as if you are working two full time jobs.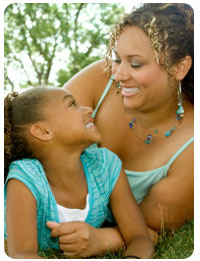 If you're a single parent, you are not alone. According to the U.S. Census Bureau, single-mother families increased from 3 million in 1970 to 10 million in 2003, while the number of single-father families grew from less than half a million to 2 million. I couldn't believe those statistics when I read them. It has increased even since these numbers. Whatever your situation, you can raise well-adjusted children and have a happy home.
I am Blessed. My husband and I raise our son together. I know that it is a true gift to be in a loving family. Believe me I do not take it for granted. I admire any person who is a single parent because I know how hard it is being a Mom and I have help. Keep this in mind, HOW you are as a parent with your children matters far more than any particular thing you may ever DO with them.
Advice on the best ways of managing stress and being the Best Single Parent you can be.
Single Parenting can be tough and that is why it is critical that you set the best example for your child. The sacrifice will pay off in the end when you have raised a happy, healthy mature child. I am hear to speak encouragement and Blessings into the lives of whomever may be reading this. Thank You for answering your call!

Leave Single Parenting and return to Toddler Parenting

Leave Single Parenting for Toddlers Home