How To Increase Toddler Learning
Toddler learning happens at each child's own rate. Every child sets different milestones at different ages. My son was bottle broke before he turned one, out of diapers before he turned two. But, there may be other children who take longer to reach these abilities. As parents we all want milestones to happen right away.
It is a process, and each unique child dictates this process. However, we as parents can help the process along. I always say that we are the ultimate teachers. We are responsible for helping our children achieve their fullest potential.
Exploring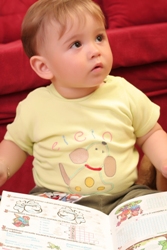 Exploration is a great way to promote toddler learning. All of the new shapes, sounds, colors, and textures are very exciting to a toddler. It is important that you "allow" your child to explore. Of course you promote toddler safety but it is fine to give them room to explore. Toddlers need to look, touch and grab to understand what an object is.
As the exploring and adventure begins it is a good idea to try and keep things safe at home. Your toddler is going to want to look at everything so making the home a safe place is extremely important now. Let him be the King He will want to touch, taste, feel, see, and hear everything. If you notice how toddlers put everything in their mouths, this is part of them learning.
Role Models
What are you teaching your children? Have you ever thought about how your actions can affect your toddler learning? Children take after us whatever we do they want to do. Toddlers will be able to pick up the good, but they will also pick up the bad. My husband and I take pride in our parenting.
We have never used swear words, argued or are unkind to anyone in front of our son. So naturally my son has learned these good qualities from us. This is called learned behavior. It is very important that you are promoting a "healthy" environment. Remember, children are like sponges soaking up all of your examples.
Promote good habits in your children. These can include:
Toddler Safety
Putting Things Away
Locking Doors
Promote Learning Games and educational games
Discipline
Picking Up Messes
Staying on a Good Sleep Schedule
Eating Healthy
Following a good routine every day
Building the self esteem and structure of a child at an early age will definitely lead to many great things for them.
Toys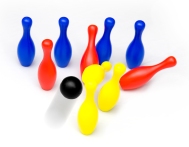 A great avenue to promote toddler learning can be through toys. There are some great Toddler toys on the market that are educational and FUN! Toys play a huge role in child development. There are certain things you need to look for when deciding what toys to purchase.
You must see if the toy is age appropriate. It is very important that you follow the recommended ages. Toddler toys will also adhere to the 5 senses of your little one and those are: sight, sound, touch, feel, and taste. The toy that seems to excite your toddler is the one you may need to go with. This will help immensely with their development.
Try taking your toddler to the store and letting him "test" the toys. This will give you an idea of what is keeping his interest. These are the toys that will speed up toddler learning. You want to keep their interest. You also do not want to waste money on toys that they are not going to play with.
If the right educational toy is found, this will help your child develop faster and possibly smarter than the average child. So keep all of these tips in mind when you are buying toys. It really does make a difference. Your toddler is worth it.
Health
Toddler health is important for learning. You may be thinking that how could health be important. Good health promotes an over all sense of well being. This will provide a great environment for learning. It's like the old saying that when you feel better you look better. When you feel better you can develop better, it's that simple.
Your toddler should be on a good sleep routine, healthy diet and on a regular schedule. These can impact how your child learns. It is the same with adults. We need to have structure and order. Children especially need to benefit from this teaching. We as parents must promote this! I have some great toddler learning activities to help start teaching at home.
I encourage you to make toddler learning a priority. Remember to praise your child more than you correct them. Sow the "healthy" seeds and your child will reap the "healthy" harvest. It is quite simple. Have FUN while parenting, and cherish your children for they are the ultimate gifts.


Return to Toddlers Home from Toddler Learning