How To Turn Toddler Mothers Day
Crafts Into Great Gifts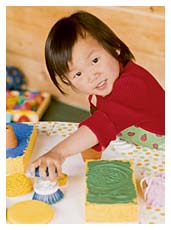 Making toddler mothers day crafts can be so much fun. These would be great for Dad to do with their child and to offer them with a bouquet of Mothers day flowers. You could also make a special gift for Grandma. I have always preferred homemade crafts over store bought gifts. They are priceless in my opinion. I also feel that Mother's Day is such a special holiday. Moms should be celebrated all year long.
Again we have to pick out extra special crafts for toddlers. The younger toddlers need more help with some of these crafts but they are fairly easy never the less. You know from my site that I love craft making. It is so much fun and you are spending quality time with your child at the same time. These memories often last forever, So let's get started!!
Fun Toddler Mothers Day Crafts
** Hand Print Bouquet
If your toddler enjoys getting messy, a hand print bouquet may just be the perfect Mother's Day project. Purchase some finger paint from your local craft store, have your child make several hand prints on a piece of paper. Once the paint is dry, use a marker to draw a stem from each hand print to create a bouquet of hands. You can even add a flowerpot or vase to complete the effect. If you have several children, ask each child to contribute a hand print to the bouquet. Either way, Mom is sure to treasure these unique toddler mothers day crafts.
** Framed "Works of Art"
For a quick and easy toddler Mothers Day crafts just purchase a picture frame with a plain photo mat. Then, have your toddler draw a picture on the mat using crayons or markers. Once your toddler is satisfied with his masterpiece, place it back in the frame along with a photo of Mom and the child. (To make the gift extra special, write Mother's Day and the year along the bottom of the photo mat.)
** Painted Vase
What you'll need:
Empty glass jar
Enamel paint (purple, pink, yellow)
How to make it:
First, be sure to read the instructions on the back of the enamel paint bottle.
Be sure glass jar is clean, dry, and all labels have been completely removed.
Have children dip their fingertips into the paint and dot onto the glass to form the petals of the flowers.
Repeat this process to dot on the flower centers--alternate the colors (purple flower, yellow center, pink flower, purple center, etc).
Let paint dry and cure according to directions on enamel paint bottle. This may require baking in the oven, or a longer alternative is air drying for up to three weeks before using.
Tips:
* Acrylic paints can be used; however they will wash off if jar is washed. To protect it better you can spray entire surface with acrylic sealer, however this can diminish the shiny surface of the glass.
** Hand Print T-shirt
This one is cute! You can buy a plain white t-shirt. You then get some puffy paints and finger paints. Allow your toddler to place their hands in the paint and make hand prints all over the t-shirt. You can add names by each hand print with the puffy paints. This will be an excellent gift for Dad on his special day as well. Just allow your toddler to have fun with it!! Mom will wear it with PRIDE!!
You can always feel free to check out my other pages on other crafts!! Toddler Mothers Day crafts can be so much fun for families. You can implement Mother's Day into just about any craft idea! So Dads, take Mom out to dinner, and you do all the cleaning. LOL :) The best gift that my husband gives me is that I do NOTHING on Mother's Day. It is truly my one and only day off a year. Thank goodness because my house would never survive if it were any longer!
Have A Great Day because you are special MOMS........:)


Leave From Toddler Mothers Day Crafts for Crafts For Toddlers

Leave From Toddler Mothers Day Crafts for Toddlers Home