The Truth About Toddler Parenting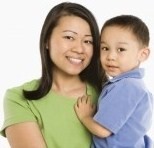 Toddler parenting can be a very stressful yet FUN time. I know what you are thinking. Tantrums are no fun and the terrible twos are even worse. We as parents have to look at the bright side. Your little toddler will grow up so fast and then this stage is over.
It is difficult to look at this phase as FUN when you are frustrated about teaching manners or potty training. Trust me I know this all too well. I have a 3 year old and I have gone through all of these issues and more. I am still experiencing toddler behaviors every day. I love it though.
That is the reason that Toddlers Are Fun was created. I wanted to take the "bad times" and turn them into the "Fun Times". Everyone frowns on the "terrible twos and threes", but I didn't. I wanted to embrace my toddler and enjoy every second of him growing up.
There is so much to learn about parenting. I am still taking advice from others and observing on my own. We can all help one another. That is what is so great about the internet and sites like mine. So much valuable information is just a click away.
Try and not get so frustrated at this stage in their lives. It can be trying and extremely hard, I know. Your toddler wants to become so independent and do everything their own way. They think that they are the boss. It's funny because sometimes as parents we question that very fact. I have thought before that my two year old ran the entire household.
You second guess yourself because you think that you are allowing your child to win. This is not the case. You are only a human being doing your best. It will be okay!! Just relax, regroup and remember that tomorrow is a brand new day. We all make mistakes when it comes to toddler parenting, we are far from perfect.
I've decided to share with you some little tips that my husband and I like to do. They just help to make positive parenting our toddler easier. It gives you some relaxation and breathing room. To me it makes me a better mom to get away from my son every now and then. I am a stay at home mom so I think it's equally as good for him.
** Tips to help make Toddler Parenting Easier **
Date Night
This is like the greatest ever for you and your husband. You can decide how many dates you would like to have in a month. You get a baby sitter and go on a date. I look forward to our dates. It also gives my son time to be with someone other than me and his dad. You can go to dinner or a movie. The possibilities are limitless.

This is such a great idea. It gives you and your spouse alone time to relax and enjoy each other without being interrupted. This is not only great for your marriage but it also is great for your parenting. I think it makes you a better parent to be away once in a while. The day after your date you are refreshed and ready to deal with anything.Potty training? Oh yeah that is a breeze……………….. I can conquer anything with a renewed mind and state of being.
Taking some "ME" time or alone time
This is so important and necessary in my opinion. Especially for single parenting. I am a stay at home mom. My husband and I both work from home. We are with our toddler all the time. It is critical that we get our space from each other. You also need to have time to be alone and do things yourself.

For example: I go and get my nails done at this time. I may even go to the grocery store or go to the mall. It is my time to do as I wish. Everyone needs their own time and space, it is healthy. My husband takes his own time too, and does what he likes. It makes our relationship better and toddler parenting easier.

Please don't feel guilty about taking these times away from your child. When you add it all up, it doesn't add up to that much time away. However, you will see great results just from taking this short time away from one another. It really will make you a better mom and wife. Trust me!
Family and Friends to the Rescue!!
You have to rely on your family and friends. If you ever reach a point of feeling overwhelmed pick up the phone and ask someone for help. Especially if you have people who are willing and wanting to help. It is better that you allow your child to go elsewhere than for you to get to angry. That is not a good situation. The distraction will help your child too.

Toddler parenting is not about knowing everything. It's the courage to recognize what is best for your child at any given time. Especially during a time where you're feeling stressed. We all can have bad days. Toddlers are no different. You may just need a break for a few hours from each other.

Trust me this really works and helps you both. Their are Organizations who support parents with children that are going through any health struggles, and there's many organizations out there with helpful information or that can offer help if you're having troubles.
These are just a few examples of some things you can try. You understand the idea and where I am going with all of this. Take the time out for you too. It truly does make you a better parent. It's okay to step back and take some time away from your toddler.
The infant phase can be just as difficult as raising toddlers. I have found a site that will help get you through the first year. You will find so many great tips and valuable information. So Moms, if your household has an infant be sure to check out this site.
I am a mom of a beautiful 3 year old son. I have found this awesome site with advice on parenting boys. If you are parents of boys or you just have boys in general, be sure to check out Corinne's site.
There are so many phases of toddler parenting that can be difficult. We can learn from one another and help one another along the way. I already know that you would do anything for your child. You love them with all that you have. You take care of them and make sure that all of their needs are being met at all times.
Treat yourself and your marriage in the same way. Look at it exactly the same. Love you and your husband that much to do anything to make your toddler parenting the best. Your toddler deserves the best Mom and Dad ever. You are capable of giving them just that. Be Blessed!!!
Ask a Question or
Give Parenting Advice.
Do you have a Question to Ask or can you offer toddler parenting tips? What do you do when you become frustrated, or what are you frustrated about? This is the place to help and be helped, so join in.

Special note: After you submit your comments, be sure to put a check mark in the boxes on the thank you page at the bottom, and enter your email address. This will ensure that you receive a response after I Answer your question Thanks...
Read Other Great Toddler
Parenting "Secrets"
Click below to see contributions from other visitors to this page...

Mommy and daddy have different parenting rules!

Please, I need help! My son's father and I divorced shortly after he was born. He was living with me for the majority of the time until about six months …
Toddler Eating Disorder

I have a four-year-old daughter that has some sort of issue with eating. I want to be sure it's not a toddler eating disorder. I'm feeling desperate for …
"Single" Mom On Vacation Without Toddler

My husband is in the military, and stationed away from home right now. My 19 month old and I are living with my parents to save money. I'm going on vacation …
Stay At Home Dad with ADD

I have been diagnosed with ADD and have been a stay at home dad for almost two years. This has been an overall great experience until my daughter began …
Potty Issues Post Potty Training

My daughter is 3 1/2 and has been potty trained for 7 months. Recently she has started having accidents and wetting the bed at night. She has been sitting …
How To Keep 19 Month Old Son Busy

Hi, this is Ruchi. Your website has been very helpful in guiding me. I hope I am able to get the desired help here.
My son is 19 months old. I've been …
Toddler Parenting Situation Needing Help

Hi, I am a stay@home mom with a bright, spirited 17 month old son, Elijah. My husband and I live in Italy right now, (he is Italian, I am American), while …
My Daughter Engages In Excessive Role-Playing

My 3-year old likes to pretend she's someone else (mostly a princess or Peter Pan). She likes to give everyone around her a role to play also. This is …
17 Month Old Grandson Not Interactive

I have a 17 month old grandson. My daughter went to pick him up from daycare yesterday and the teacher told her that my grandson does nothing all day. …
Girls Night Out For Parenting Relief

A great tip is to plan a night out with all of your friends. You can go to dinner, the movies or else just meet at someone's house and talk. (It is wonderful …
Speech and self isolation Not rated yet
My 3 yr old boy is still immature when it comes to speech. At school, he doesnt want to join in with the other kids. He likes playing in the garden before …
Toddler Being Naughty Not rated yet
I have a 2 years old daughter(SHIRIN) very loving n beautiful,but little bit naughty. I knw this is the age of naughtiness but she is bit more.she usually …
Screaming When Excited Not rated yet
My son is 25 months old and such a healthy, happy, bright boy. He is full of energy and gets super excited, especially around his cousins. When we spend …
Need Suggestions For Fun Ways To Teach Toddler Discipline To Parents Not rated yet
I am instructing a parenting workshop for a class of mine next week. I have to come up with creative/fun ways to teach these parents how to properly discipline …
Teaching my 16 month old toddler english Not rated yet
My son was born in the country of Morocco my wife obviously has been teaching him Arabic as she knows very very little English. Our family will be coming …
Please Help With My Toddler Not rated yet
My 32mth old can do any thing (even operate a computer) but not speaking much words he says about 30 words and two word sentence is there something wrong. …
Teaching Manners to Children Can Be Fun And Easy

Teaching Toddlers their manners is easy. Learn how you are the best example for your child's success through good toddler parenting.

Leave Toddler Parenting and go back to Toddlers Home