Do You Make These Mistakes
In Toddler Safety?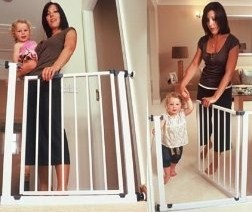 Toddler Safety should be treated very seriously in your house. It is that important. As our babies start crawling and being mobile, we really need to keep safety number "one". From toddler car seats, child proofing our homes to water safety and a toddler life jacket. We want our little ones to be safe. Until I had my son, I never really understood just how important safety is at all times, now I do.
I am going to touch on a few of the MAJOR areas of toddler safety. There are so many issues we could talk about. Just being aware and making safety an issue is your first step. Again, we as parents want the best for our toddlers and this is all part of that. Safety is another word for prevention.
Car Seats
For an in depth look into toddler car seats then see my page on this issue. You should use their car seat until they outgrow it or are 40 pounds. You can then move to the booster car seat. HOWEVER, remember to read the guidelines and see the age, height and weight requirements for the seat. You must make sure that your toddler will be able to use the seat. Every toddler seat varies so make sure you do the proper research before you purchase a new seat.
** Special Tip ** I highly recommend that you DO NOT purchase used car seats. A car seat is no longer usable after 5 years. Also if a car seat has been involved in an accident you are not supposed to use it either. When you buy used you may not know the history of the seat. This is one instance where you should not try and save money. Spend the money and purchase a good NEW seat! **
Choking Hazards
The idea of my son choking used to scare me to death, especially when he was learning to eat whole foods. Toddlers are at a big risk for choking. They often put "everything" they can find in their mouths. That is the first thing that happens, everything goes in the mouth. You must always be aware of what they are eating and doing at all times.
Choking Prevention Tips:
Take a CPR first aid class so that you can be aware of when your child is choking and more importantly what to do.
Do not allow your toddler to eat while playing and running around.
Cut food into small bite sized pieces.
Keep toddlers away from toys with small parts. Again, purchase age appropriate toys. Never let them play with coins either. Have you ever swallowed a penny? My nephew did, he eventually passed it, but we want to avoid any disaster. Toddler safety first MOMS!!
Be aware of their play area. Always do "sweeps" and look for small items. Prevention is the key.
Remember to talk to your pediatrician and avoid certain foods that can be a potential choking hazard. Hot dogs, peanuts and grapes just to name a few.
Your Home
This one is the BIG one. There are so many areas of your home that need to be child proofed. See my child proofing page for more detailed advice on this topic. I would like to touch on a few of the key important factors of toddler safety in the home.
Child Proofing Your Home Tips:
Have safety covers on electrical outlets and latches on all cabinets and drawers.
Use Stair gates and window locks. Especially if you have patio doors. Invest in locks and alarms for these doors.
Set the temperature of your water heater to 120 degrees to avoid burns.
Remove furniture with pointy edges or use skid guards. I personally would just maybe put the furniture away until the kids grow older. Especially ant glass tables…
Install smoke detectors AND carbon monoxide detectors
Remove any breakables from out of reach of those little hands. Toddler safety number one.
Tie up cords from blinds and curtains.
Do not let your toddler in the kitchen when you are cooking. I used to have a baby gate blocking off my kitchen. Remember to always turn the pot handles inward while cooking.
Keep household cleaners, chemicals and medicines out of reach!! We want to prevent childhood poisoning. Always store them in the original container. Buy products with a child safety caps. For example, I won't buy bleach unless it has a child resistant cap or any over the counter medicines. Know your local Poison Control Center Number.
Have all important emergency phone numbers programmed in your phone or else easily accessible out in the open.
Be careful of certain pets that you may have around your toddler.
Use flame retardant pajamas on your toddler
Make sure you are constantly updated on the latest toy and furniture product recalls
Now these are just a few of the many important areas of toddler safety. We have to really be aware of the environment surrounding our children. Child safety and "Stranger Danger" is another area of critical importance. It is our responsibility to make sure they are safe at all times. Accidents do happen however, we want to prevent any harm from occurring to our children. Prevention is the key to their safety.
* I am not a Doctor or Licensed Professional in the field of toddler safety. I am a stay at home Mom passing on tips, advice and information that are based on my opinions. Always remember to consult your pediatrician with serious questions concerning your child and their safety.*


Toddler Car Seats And The Facts To Know
Toddler Car Seats and the facts you need to know. Learn tips and advice on what important features to look for before making this purchase.

Child Proofing Your Home Tips And Advice
Child Proofing Your Home should be an important part of toddler safety. Learn tips on what you have to do to make your home safe for your children..

Childhood Poisoning Prevention Tips
In Childhood Poisoning prevention is the ultimate goal. Learn tips on how to poison proof your home and symptoms to look for in case of potential accidents.

Child Safety And Tips On Stranger Danger
Child Safety is critical. Read tips on how we as parents can prepare our children to be aware of good and bad stranger danger.



Leave Toddler Safety and return to Toddlers Home