The Secrets Of Weaning A Toddler
From The Bottle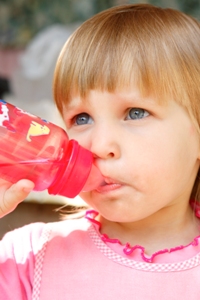 Secrets to weaning a toddler from the bottle? Most parents think that this is one of the stressful times in the toddler phase. Weaning, potty training all of these times can be FUN if you allow them to be. It was an easy transition for my son when he was a toddler. However, it is important to prepare and make this as easy as possible..:0) For both parents and the child.
When my son was on the bottle, I set a goal to have him weaned by his "FIRST" birthday. And we met that goal. One of the important factors was that I never allowed my son to become "attached" to his bottle. He understood that his bottle was for feeding time only. He never went to sleep with his bottle, or ran around playing with it. Toddler safety is important, so set the stage early if possible.
We can address some of the important toddler health issues as well. Bottles can begin to be bad for those new little teeth growing. Never ever put anything with large amounts of sugar in a bottle. For examples, kool-aid, soda, high sugary drinks. These are not only terrible for their teeth but also for their health.
Prolonged "Bottle Use" Can Cause:
Tooth Decay
Your Toddler may become overweight. Too many bottles means too many calories they will be getting in a day.
Ear Infections. There have been children who get frequent ear infections because of the bottle.
Become picky eaters....not interested in food. They would rather have the bottle.
My Secrets to Weaning a Toddler From The Bottle:
Secret #1: Transition...............

Do Not just abruptly take the bottle away. The first way is to start with the morning bottle – Instead of giving the bottle give the cup. Do this for a few days and then take away the morning and afternoon bottles. Eventually you will work your way up to the bedtime bottle. The bedtime bottle is the last to go.... Until there is no more bottle....YAH!
Secret #2: Buy your Toddler "Character "Cups

This really helps! I would buy the Cars cups, Barney etc. He really became excited about drinking from his very own cup... Click on the link below for some really great deals on toddler cups!

Click Here Now For Deals On Toddler Cups
Secret #3: Praise Praise Praise

Praise the child every time they drink from the cup. Make a HUGE deal and they will be wanting to receive the encouragement and praise. Remember, praise more than you correct and weaning a toddler from the bottle is a huge deal.
Secret #4: Introduce a New Security

Some toddlers use their bottle as a security measure. You may wish to consider getting a new stuffed animal, blanket or item of choice. Take them to Build A Bear and allow them to choose their own special bear. This helps in so many areas. You will also want to give extra cuddles and hugs while you are weaning a toddler. They need to be reassured and know they are loved.
Secret #5: Be Consistent

The weaning process should be approached with consistency. If you begin a plan, you should stick with it or the entire process will take much longer than it should. Your baby will most likely cry, whine, whimper, or demand their bottle, but you must be diligent in your efforts and not give in.
Secret #6: Timing is Everything

Choose an appropriate time to begin weaning a toddler. Never choose a time when there are going to be major changes. Such as moving, a new sibling etc. You want it to be a peaceful time for your child.
Secret #7: Play Dates

I encourage you to have play dates with other toddlers who are going through the same phase. Or even older toddlers so that your child can see how they drink from a cup. Believe it or not they sometimes want to do what everyone else is doing and want to join the FUN............
Secret #8: Be Patient

Your Toddler is going to experience some frustration and temper tantrums. Understand and know what they are going through and do not give in. It will get easier. This is part of the toddler learning process.
I want you to stay encouraged and know that weaning a toddler is a huge process. It can be FUN if you just relax and enjoy this time. You will blink your eye and they will be 16 and driving! I wish you well and know that this too shall pass. Be Blessed...:0)


Return To Toddler Care From Weaning A Toddler

Return To Toddlers Home From Weaning A Toddler