Make a donation to Toddlers Are Fun
to receive a moms club membership
Get Your Moms Club Membership For A Donation Of Any Amount...
Hello Moms, my name is Ingrid and I'm now offering moms club memberships to assist my wonderful visitors like you. And the great new is, it's all by donation. This means when you make a donation of any amount you will become an official mothers Club member of Toddler Are Fun.com.
As a club member you will receive various Free products and services that Non-members pay full price for. Your kind donation also helps to keep this website up and running as I have various costs to keep it live. In four years this site has helped thousands of mothers around the world, and your donation of any size helps to keep that legacy alive. So donating for a club membership is a win-win situation for everyone.
I also felt the need to offer these memberships due to a slowing economy and the tight budget many moms are on who have children. Many mothers who visit my website want to take advantage of the products I sell, but just can't afford it. For example: I sell my e-book for $27. Well $27 can be a huge deal for mothers with children to support. So, when someone makes a donation they will get my ebook and other products and services for Free. It's all included in the membership.
AND THERE IS A LOT MORE......
Your Mothers Club Membership will entitle you to receive the following benefits plus more: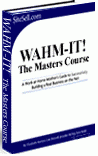 You will receive a Free suite of work at home moms "WAHM" Masters Courses. The suit includes training on affiliate marketing, a 10 step getting started guide, a Net auction, Price Selling and Netwriting course too. I will even offer you free personal coaching to help you along the way, and "dads" can take advantage as well. This is a "Priceless value".
You will receive my New eBay buying and selling guide e-book for Free. This is a $27 value. Feel-free to click here for e-book details.

You will be able to enter up to three of your children into my baby and toddler contest for Free.
You will also be provided with a Free complimentary VIP membership to Child Support America.com, a site that helps with child support, divorce and visitation issues.
More Benefits:
Additional benefits will be frequently added, but can only be viewed from my member login page once your membership has been purchased.
I promise to always keep the moms club memberships affordable, but eventually I may need to set a standard rate. So I encourage you to grab your membership today while they are still available and offered by donation. This will save you from paying a higher price at a later date. So go ahead and set your own price. The donation instructions are below, and if you have any questions use the contact me form on this page.
One Time Donation:
Since my program is new I am offering a limited number of moms club Memberships for a Donation of any amount. Again please understand that the set your own price donation is an introductory special and may end soon.
Two Ways to Donate:
You can make your donation safely and securely via PayPal by clicking the donate icon below. Although online donating is preferred you can also donate by money order. For mailing instructions please contact me by using the form below. Be sure that both your email address and phone number are correct, and I will email you the address and instructions.
"I look forward to providing you with great products and services at a donation amount you can afford". Donate for Your Moms Club Membership Today!
Sincerely, Ingrid
Special Moms Club Membership Note:
I will email you your membership log in information within 24 hours after your donation is received.