Toddler Christmas Pajamas
and Nice Family Traditions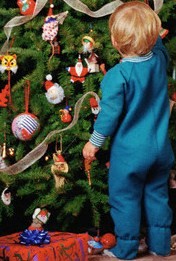 Toddler Christmas Pajamas are one of my favorite family traditions. I know what some of you might be thinking, why on earth would she write a whole entire page on pajamas for Christmas? Well the truth is I love Christmas and the whole season leading up to Christmas. So this topic happens to be one of our family Christmas traditions.
Each member in our family gets new "Christmas" Pj's every year. We do not wear them until Christmas Eve. It can be so much fun shopping for all of our holiday jammies, especially for toddler Christmas pajamas. There are so many cute holiday toddlers sleepwear on the market. I get so excited!!
When you are shopping for your toddler Christmas pajamas keep in mind that you don't want to spend a whole lot of money on them. You do want them to be unique and festive and "Christmasey." (I am not quite sure if that is even a word. Oh well, Tis the season and its time to buy our family Christmas pajamas.
As you know, you can find the cutest pajamas for toddlers at any time of the year. Toddler Christmas pajamas are really adorable. There are many of my favorite stores that have some nice pajamas.. I always try and find those perfect ones that I am looking for. It is so funny because you feel that way every year. I guess you could say they are perfect for that year. Then the next year you will have a different pair in mind for those perfect ones. LOL
The story of the
Christmas Pajama Tradition
The family Christmas Pajama Tradition is so wonderful. I just Love It!! It started when my toddler was an infant. I bought him the cute little Baby's 1st Christmas pajamas. Come on Moms, you know the ones. You can buy the bibs and the bottles to match.
Well being that he was my first child I really went overboard. The idea of it was so cute. I waited until Christmas Eve for him to wear them and it was adorable. The whole concept and idea of it I just loved. I did it again for the following Christmas when he turned one. I found the cutest Candy Cane ones. Those became the "perfect" ones.
Each year I began to look more forward to buying his toddler Christmas pajamas. I was like a child myself. Finally by the following year he was two years old at Christmas time. I thought to myself, well why can't mom and Dad get some new PJ's too? There it began………….
You want to talk about FUN? It is such a blast for my husband and me to buy special pajamas for ourselves too. It also allows my son to get excited. He loves the fact that we have on our special Christmas pajamas as a family. also. Again, family is so important in our household. It's the small things that are important and our Lee Family Christmas Pajama Tradition is very important to us. It makes our Christmas even that more special. So it all started with some simple toddler Christmas pajamas. Amazing!!
This tradition is so valued and important to me, I wrote this page on my website exclusively for this reason. It started off with buying my son some toddler Christmas pajamas, and ended up a tradition treasured by all of us. Christmas is so special and important to me and my family. I love every aspect of the season.
Society in general can get so caught up in the materialistic portion of Christmas. We can sometimes lose sight of the important stuff. It happens to all of us. We want to get our child the latest and greatest toys that are on the market. I decided to write about what Christmas means to me and I want to share it with all of you.
What Christmas means to me...........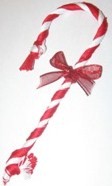 The meaning of Christmas is so near and dear to my heart. I had a terrible childhood. Through all the bad, came patches of good in the form of Christmas's spent with my 3 older sisters. WOW! Those memories I will carry in my heart always. I think we all can relate to trying to stay up all night on Christmas Eve so excited. We would try by eating potato chips and drinking chocolate milk.




My sisters and I would have a Candy Cane eating contest. We would try and eat one of those huge candy canes but, the golden rule was you could not bite it. You had to just lick it all night long on Christmas Eve. Those are the good memories. We would sneak downstairs to try and catch a glimpse of the tree and the presents underneath. Then the four of us would each grab our stockings, and sneak back upstairs, quietly.




We were ornery. We would take our stockings back up to our room and empty them out and look at all of the goodies we got. After we were done putting everything back inside (minus a few pieces of candy… LOL), one of us would take all of the stockings back downstairs. I guess that is why I love stuffing stockings so much for my family. That memory I will cherish forever.




When I was growing up, my parents didn't have much money so we never really received big elaborate presents. I however treasured my filled Christmas stocking more than anything. That truly was enough for me. That is what I looked forward to every year on Christmas morning as long as I lived at home. My same stocking that I had since I was 5 years old. So Christmas to me means memories and traditions. That alone was the ultimate gift.




So you see, the picture is greater than just toddler Christmas pajamas. It is about making memories that your toddler will remember and maybe pass on to his own family one day. Your child may just take your family traditions with them to pass on from generation to generation. Really sit and think about how incredible that can be.




Now don't get me wrong we do buy gifts for our son, but it is by no means extravagant. It also is not the sole basis for Christmas or the holiday season. It is a time of giving, not only to your own family but to others who are needy as well. You should practice serving others not only at Christmas time but all year long.




Christmas means to me that you have to stop and take a look at the past and the present, because your present just may turn into your toddler's future. I never realized that at 5 years old I would carry on the Christmas stocking tradition to my son. It is truly amazing when I think about it. He is living my memories and doesn't even realize it.




That is the power that a single tradition can hold. So I think now you can understand how important toddler Christmas pajamas are to me and my family. The tradition is the best gift of all that I can give to him. This holiday season make memories that will last a lifetime. Start a new tradition and remember to hold your past memories close to your heart.
From the Lee Family to yours... Have a Blessed Christmas !!!
Leave Toddler Christmas Pajamas for Crafts For Toddlers

Leave Toddler Christmas Pajamas for Toddlers Home