Let's Celebrate The BlueBerry!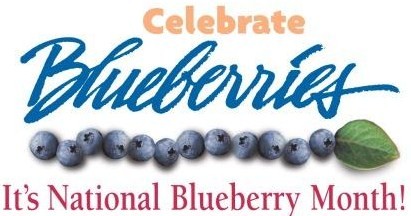 Did you know that July is National Blueberry Month?
That Is Correct, July is National Blueberry Month. I encourage you parents to take your children Blueberry picking. It is a great family time and then you can do some "FUN" things with all of your hard labor. I have decided to dedicate this issue to the Amazing berry...:0) Yep and to celebrate we will have a "FUN" toddler craft that will use this wonderful fruit! Also, we MUST have a Blueberry Muffin recipe to go along with our theme....:0) Yummy! Your toddler will love this healthy recipe. This is a "FUN" Blueberry issue and as always I am honored to be sharing with you all of my secrets....... So grab some Blueberry Pie and enjoy this "Relaxing" issue of "The Toddler Times".
If you like this e-zine, please do me a favor and "pay it forward."
If a friend DID forward this to you and if you enjoy this e-zine, please subscribe by visiting......



Click Here NOW To Subscribe To Ezine

July 2011: Issue #0025
Our "Blueberry" e-zine will feature:
The Secrets Of.......The Blueberry
Learn how Amazing this little fruit really is!




Have you "liked" TAF on Facebook yet?....





Toddler Craft
Why Blueberry Paintings Are The Best!




Toddler Recipe
Are you ready to make Healthy Blueberry Muffins?




Hurry up and Sign up for the Toddler Photo Contest!
This Contest Ends September 30th! Have you entered yet? YOUR Toddler could be our next winner!
The Secrets Of.......The Blueberry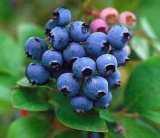 I am fortunate that my son and I love blueberries. I never realized how healthy they truly are. There is some power packed in those little guys!
With just 80 calories per cup and virtually no fat, blueberries offer many noteworthy nutritional benefits. Here's the skinny on blueberry nutrition: Blueberries are packed with vitamin C.
In just one serving, you can get 14 mg of Vitamin C – almost 25 percent of your daily requirement. Vitamin C aids the formation of collagen and helps maintain healthy gums, teeth and capillaries. It also promotes iron absorption and a healthy immune system.
Blueberries are dynamos of dietary fiber.
Research has shown that most of us don't get enough fiber in our diets. Eating foods high in fiber will help keep you regular, your heart healthy and your cholesterol in check. A handful of blueberries can help you meet your daily fiber requirement. What a tasty way to eliminate this worry from your day!
Blueberries are an excellent source of manganese.
Manganese plays an important role in bone development and in converting the proteins, carbohydrates and fats in food into to energy – a perfect job for blueberries
Blueberries are leaders in antioxidant activity.
According to the U.S. Department of Agriculture (USDA), blueberries are near the top when it comes to antioxidant activity per serving (ORAC values). Their capacity is impressive – click here to see how the antioxidant activity in blueberries compares to other foods4. Antioxidants work to neutralize free radicals — unstable molecules linked to the development of cancer, cardiovascular disease and other age-related conditions such as Alzheimer's. Substances in blueberries called polyphenols, specifically the anthocyanins that give the fruit its blue hue, are the major contributors to antioxidant antioxidant activity! WOW! So you need to go buy some blueberries right now.
Click Here Now to check out a website that I found dedicated to the blueberry......It contains some priceless information.:0)
Why Not Paint With Blueberries?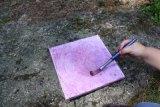 Did you now that July is National Blueberry Month? Enjoy this summer berry with a little taste-n-paint project (just be sure to strip your kids down first – and put a generously sized splat mat under your "painting" surface).




What you need:
Large glass bowl
Pint of blueberries (a great use for the past-ripe ones)
1 cup of water
Fork
White poster board or large white construction paper
Directions:
Pour the pint of blueberries into the glass bowl, add water and microwave on high for 2 minutes. Berries should be warm and mushy. Mash them with a fork (your kids will love helping with this part!) Then, tape the poster board onto your table or floor to create a stationary painting surface and let your kids finger paint with the juice. Voila: A berry blue (and messy!) picture.
Have YOU Liked "TAF" On Facebook Yet?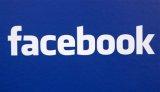 Have you "liked" Toddlers Are Fun on Facebook yet? Go HERE to the right column and click "Like". You are becoming a TAF Fan. We Have already given away prizes and will be giving away more SOON! Do not miss out and sign up today!

You can also check it out by this link: Click Here Now!




Are You Looking For A Healthy Blueberry Muffin Recipe?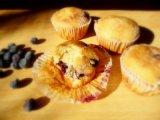 BlueBerry Muffins..:0)
Healthy Blueberry Oat Muffins Prep Time: 10 minutes Baking Time: 18 to 23 minutes Yield: 12 muffins
Ingredients:
1-3/4 cups quick-cooking oats
1 cup whole wheat pastry flour
2 teaspoons cinnamon
1 teaspoon baking soda
1 teaspoon baking powder
3/4 teaspoon salt
3/4 cup packed light brown sugar
2 eggs
1/4 cup vegetable oil
2 teaspoons finely grated lemon zest
2 teaspoons vanilla extract
1-1/2 cups buttermilk
1-1/2 cups blueberries
Directions:
Position an oven rack in the center of the oven and preheat oven to 400 degrees. Grease a standard 12-cup muffin pan.
In a food processor or blender, pulse the oats until they resemble coarse meal..
In a large bowl, whisk together the oats, flour, cinnamon, baking soda, baking powder and salt until well combined and then set the bowl aside.
In a medium bowl, whisk together the brown sugar, eggs, oil, lemon zest and vanilla until well blended.
Add the sugar/egg mixture to the flour mixture and stir until just blended and then gently stir in the blueberries.
Divide the batter equally among the prepared muffin cups of the muffin pan.
Bake in the preheated oven until the tops are golden and a toothpick inserted in the center comes out clean, about 18 to 23 minutes.
When they are done, remove pan from the oven and let muffins cool in the pan on a wire rack for 5 minutes, then transfer them out of the pan and onto a wire rack to cool.
The Most Amazing Toddler Photo Contest Ever Offered
We have our winner of the June Toddler Photo Contest! Click Here Now to see the winner! Congratulations and our new contest is currently taking place so enter today!




** Photo Contest Ends September 30th ! **




Toddlers Are Fun Photo Contest Prize Package Includes:




Prize #1
Baby Rock Clothing T-Shirt!

Thanks to Baby Rock Clothes! For being a NEW sponsor to the Toddlers Are Fun toddler photo contest!

So, if you're a Cool, Hip, Stylish Mom or Dad, show the world your Baby has serious style!Baby Clothes, Rock Baby Clothes, Hip Baby Clothes, Baby T-Shirts, Rock, Funny, Punk Baby Clothes and A Unique Baby Gift for the Little Cool Star! Check out this site Baby Rock Clothes The winner of the toddler Photo contest will receive a shirt of their choice as a prize! So enter your toddler today!





Prize #2
Buying and Selling Secrets to cash in on E-bay!

Information about this e-book:

I have bought and sold on E-bay for years. I have some Amazing secrets to share and the winner will get to read all of them!

To check out The book the winner will receive Click Here.




Prize #3
Become a Moms Club Member

The winner will get a Free membership for a year to the TAF Moms Club!

To check out The membership and all it's benefits Take a Look Now




Prize #4
The winner of this contest will be entered into our GRAND Prize "Toddler of The Year Contest" that will end December 31st 2011. The Grand Prize package will be announced later and it will truly be an amazing prize package.




We are so excited about our contest winners! Our fourth contest is underway so enter NOW! New Contest ends September 3oth, 2011 so enter Now! You and your Toddler could win all of these great prizes! Have you entered your toddler yet? Remember that comments to your child's pictures serve as votes! Click Here NOW To Enter the Contest Today!





GREAT NEWS! The Toddler Times will now be coming to your inbox bi-weekly! Now you will get Double the tips and Double the contests! Thank you for supporting Toddlers Are Fun.com




Take Care and I speak Blessings to be poured over you and your family!
Ingrid ;0)