Happy St. Patrick's Day!

Are You ready For some FUN toddler Crafts, Recipes and St. Patty's Day Freebies? :0)
Happy March! So did March come in like Lion for you? (I think I have that correct..lol) Here in Ohio we have been Blessed with a mild Winter. How about you? I have just been awaiting Spring and the Sunshine. It will be here before I know it and I am counting the days... This issue I have some cute toddler crafts and recipes to fit into the "St. Patty's Day" theme. These are not only toddler friendly but great for the entire family. So grab a cup of coffee, and enjoy this "Green" issue of "The Toddler Times".
If you like this e-zine, please do me a favor and "pay it forward."
If a friend DID forward this to you and if you enjoy this e-zine, please subscribe by visiting......



Click Here NOW To Subscribe To Ezine



March 2012: Issue #0032




Our "Happy...St. Patty's Day e-zine will feature:
FREEBIES
My St. Patty's Day Gift to You!!




Rainbow Cupcakes...YUM..
You really will find gold at the end of these treats...




Are You Looking for an Easy Toddler "St. Patty's Day Craft?
This FUN craft will be great for the entire family!




Hurry up and Sign up for the Toddler Photo Contest!
This Contest Ends March 31st Have you entered yet? YOUR Toddler could be our next winner!
FREEBIES.....
Who is ready for some Freebies?
I came across this site because as you all know...I am all about sales, coupons and saving money. This site is really great because it has so many different categories of Free samples, coupons and so much more!! I decided to give you a St. Patty's Day gift by sharing this with all of you!!
Rainbow Cupcakes....:0)

"Gold at the end of the Rainbow" Cupcakes
I absolutely LOVE this recipe!! Is it not just the perfect fit for St. Patrick's Day? Love it. Enjoy making these and eating them as well...LOL
Ingredients:
A cooled cupcake
Grass-green frosting
Several flavors of Airheads candies
A pot's worth of gold coins
Directions:
To make one, first top a cooled cupcake (baked from your favorite recipe) with grass-green frosting.
For the rainbow, use a large, heavy knife (parents only) to cut a long, narrow strip from each of several flavors of Airheads candies (this is sticky stuff, so work on waxed paper). Lay the strips side by side, press them together, then cut the ribbon of strips in half to make two rainbows.
Curve each one into an arch and trim the ends as shown. Set one rainbow upright on the cupcake (save the other for another cupcake) and deposit a pot's worth of gold coins at one end. If necessary, place a gold coin behind the rainbow for support.
Thanks Family Fun.com for this Amazing recipe!!
Looking For a "St. Patty's" Day Craft?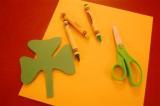 A Bit O' The Green Collage
From the color of Shamrocks, to the suit of a leprechaun, green is the color of the Irish. Some speculate that St. Patrick's Day's is so closely associated with green, not just because of its Irish heritage, but also because it is thought to be the holiday coinciding with first green of spring.
Whatever you choose to believe, creating a collage of green is a wonderful way for toddlers to enjoy a craft activity while celebrating the heritage of St. Patrick's Day.
Materials Needed:
Medium Size Piece of Cardboard (An empty Cereal Box works well)
All Purpose Glue or Craft Glue
Green Decorative Materials (sequins, glitter, construction paper, yarn, buttons, ribbons, pipe cleaners, beads, markers, etc.)
Instructions:
Cut a shamrock shape from cardboard.
Allow child to add bits of green all over the shamrock using the green decorative materials. Help child to glue decorative materials to the shamrock shape.
Let glue dry. Display the green collage for a decorative flair on St. Patrick's Day.
The Most Amazing Toddler Photo Contest Ever Offered
We have our winners of the December Toddler Photo Contest! Congratulations and our new contest is currently taking place so enter today!




** Photo Contest Ends March 31st ! **




Toddlers Are Fun Photo Contest Prize Package Includes:




Prize #1
Buying and Selling Secrets to cash in on E-bay!

Information about this e-book:

I have bought and sold on E-bay for years. I have some Amazing secrets to share and the winner will get to read all of them!

To check out The book the winner will receive Click Here.




Prize #2
Become a Moms Club Member

The winner will get a Free membership for a year to the TAF Moms Club!

To check out The membership and all it's benefits Take a Look Now




Prize #3
The winner of this contest will be entered into our GRAND Prize "Toddler of The Year Contest" that will end December 31st 2011. The Grand Prize package will be announced later and it will truly be an amazing prize package.




We are so excited about our contest winners! Our fifth contest is underway so enter NOW! New Contest ends December 31st, 2011 so enter Now! You and your Toddler could win all of these great prizes! Have you entered your toddler yet? Remember that comments to your child's pictures serve as votes! Click Here NOW To Enter the Contest Today!





GREAT NEWS! The Toddler Times will now be coming to your inbox bi-weekly! Now you will get Double the tips and Double the contests! Thank you for supporting Toddlers Are Fun.com




Take Care and I speak Healthy Blessings to be poured over you and your family.
Ingrid ;0)