What Makes Recipes For Toddlers
Fun and Easy to make?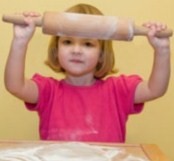 I have some great recipes for toddlers moms. You will love to make these and also have fun eating. It's fun to allow our toddlers to make some of "their own" recipes. Moms and Dads don't worry if there is a mess to clean up. Cherish these moments spent together. Who cares! Clean it up later.
I am a huge fan of healthy eating and healthy snacks. We have treat days in our household. Sometimes it is okay to go outside the normal and treat yourselves. Allow the children to enjoy it too. Again, this is not common in our house. We are big on healthy and know how important healthy eating is for your children.
These recipes for toddlers are ones that I have either been told about by family and friends, or made up on my own. I have added my own "special twist" to them and they are simply great!! Maybe you are experiencing a rainy Day, or maybe it is just plain cold outside. We have recipes to fit any occasion or season. Remember to Have a Great Time with your toddler making snacks.
Fun and Easy Recipes For Toddlers
Here are just a few of the great recipes I have. I have picked out some of our faves that are so simple to make. Designate a treat night in your house. Your toddler will look forward to it. I look forward to it just as much as the children. Have Fun!!
* Home Made Ice Cream Sandwiches *
Toddlers can make this treat easily. The great thing about this treat is that any child will love to make these. Every one will love to eat them too.
Ingredients:
Graham crackers any flavor (we prefer the Chocolate ones)
ice cream (any flavor)
plastic wrap
Description: Allow the ice cream to sit out and get to a soft stage. Take your graham cracker and spread with about ½ cup ice cream. Put another graham cracker on top and wrap with plastic wrap. Freeze for about 3 hours. These great treats are good for up to about 3 weeks! Honestly they are so delicious they won't last one day!!! LOL!!!
* Fruit Juice Ice Cube Popsicles *
I don't know about you, but I loved these as a child. My sisters and I used to make these everyday. We grew up with not much money so we loved these. You can use 100% fruit juice to make them healthy.
Ingredients:
Ice cube trays
Fruit Juice of choice
toothpicks
plastic wrap
Description: These are really easy and fun. My toddler loves making these and than eating "his own popsicle". Just take your fruit juice and fill up the ice cube trays with the juice. Take your plastic wrap and wrap over the tray very tightly. Stick toothpicks in each section of the tray. Place in the freezer for about 5 hours. Remove the plastic wrap and hold the bottom of the tray in hot water. Pop out and enjoy!!!
* Cookie Cutter PB and J's *
These recipes for Peanut Butter and Jelly sandwiches are very Fun!! I know toddlers love Peanut Butter and jelly. Why not change it up!
Ingredients:
Cookie Cutters
bread
peanut butter
and of course jelly
Description: The kids will have so much fun doing these!! Moms and Dads will too!! Take your two pieces of bread and spread your peanut butter and jelly on them. Just make the sandwich as you normally would. Let the kids take the cookie cutter and press on the sandwich. You have a neat PB and J. Add some carrot sticks and enjoy !!! Hint: These are great to enjoy on a picnic.
* Peanut Butter Wraps *
Ingredients:
Soft tortilla wraps
Peanut Butter
and of course jelly.
Description: Easy. Heat up the wraps. You can read the time from the packages. Have the kids spread peanut butter and jelly on them. Roll them up and cut!!! Yum Yum Yum!!!!
* Bugs On A Log *
Ingredients:
Celery
peanut Butter
and raisins
Description: Take the piece of celery and spread peanut butter on it. Have the kids place the raisins on the celery to look like bugs!!! These recipes for toddlers are the best!
Hint: If your toddler doesn't like raisins than try substituting tiny chocolate chips!! These recipes for toddlers are so much fun!!!
* Worms in the Dirt *
Ingredients:
Softened chocolate ice cream or chocolate pudding
chocolate cookie crumbs
gummy worms
Description: Fill 9 ounce cups with either the pudding or ice cream about ¾ of the way full. Top with the cookie crumbs about ¼ inch. Put the worms on top of the "dirt" and eat!!! Kids love this one too!!
So there you have it!!! A few of my fun recipes for toddlers! These are great!! Keep checking my site for more exciting recipes. The kids will always love making their own creations and eating them as well. If you have any great recipes or ideas please contact us we'd love to hear them!! Check out the FUN recipe books that Amazon.com has!! Click on the books for other ideas for great recipes to make with your toddler!!
Leave Recipes For Toddlers for Toddler Nutrition

Leave Recipes For Toddlers for Toddlers Home