What You Should Know About
Toddler Games
Toddler games can be a Fun part of family time. I know that some of you may be thinking that toddlers do not play many games. On the contrary, they enjoy the stimulation, games promote toddler learning. When my son was a toddler, he loved playing games and listening to music. We had just as much fun as he did.
When you think of games, think in terms of age appropriate. There are computer games online, board games and physical games for smaller children. Games can be whatever you choose them to be. The joy is the relationship and quality of time spent with your child. Toddler games can be an essential part of that time.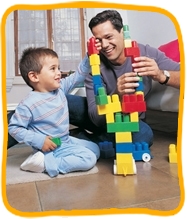 I have decided to start talking about certain games that I enjoyed as a child, especially when I was 3 and 4 years old. These games can be played with your younger toddler as well. Make sure that you check out my other pages of toddler play ideas for other exciting activities. This really does put the "Fun" in Toddlers Are Fun.
** Some of my Favorite Toddler Games:
Duck Duck Goose:
This is a classic. This truly is a self explanatory game. I hope that most of you are aware of how to play this one...just kidding. Everyone sits in a circle and you pick one person to be "it". The "it" person walks around the circle tapping on the head repeating "Duck, Duck, Duck and then they get to choose the GOOSE! Then the goose must chase the "it" person around and beat them back to their empty spot. This is a very easy and FUN game to play with toddlers!
Hide The Object
This is a great game for toddlers. Pick an object. It can be a book, stuffed animal, a blanket or any bigger object. You and your child will take turns hiding and or finding the object. If it is an older toddler than you can use the "hot and cold" method so that you are getting closer. With smaller children it is best to keep it confined to one small area. You have to keep up with their tiny attention span.
Taking Toddler Pictures
This is a Fun one. This game is used with a child appropriate digital camera. Each person takes turns taking pictures of each other. This helps younger children with their hand and eye coordination. It also brings many laughs, you can see who can take the silliest pictures. Not to mention this game, makes Amazing memories for you all to share for a lifetime...:0)
"Chase Me Mom and Dad"
Toddlers love to be chased. With this game you just keep chasing your little one around and around until they finally get caught. Younger children enjoy this so much and they never get tired of it...LOL **It is important to always keep toddler safety in mind when running around furniture and slippery floors.**
Computer Games
Allowing your child to play toddler games online is a new way to approach learning. It can be an appropriate learning tool as long as it is monitored. There are many benefits to this form of game. Check out my page and decide if this is an option for your family. It really can be a good thing parents!
Toddler Board Games:
Now I would like to talk about some toddler games that I think are great. I realize that with younger toddlers you do have to be careful if there are small pieces involved in the game. Even if they can't really play the game exactly by the directions, they are still being exposed and being stimulated. I have played board games with my son since he was 18 months old. Again, they are benefiting by the quality of time as well.
** My Favorite Toddler Board Games:
Chutes and Ladders

A classic, my son loved this game so much. It is very easy to follow along and play. Now a toddler may not want to finish a whole game but that is okay. They will learn in time. This game is also very inexpensive..I love it!!




Candyland

Even a one year old child who knows their colors can play this game. All a child needs is an understanding of colors and a decent attention span.




Hi Ho Cherry-O –

You can spin the spinner and pick your apples off the tree. This is an amazing game to promote counting and following directions. I would only recommend this game for older toddlers and definitely not to be played unattended.




Dominoes or Cards

We have a blast with this one. Our family will just stack them up and then watch them all fall. My toddler gets a kick out of knocking them all down. It is fun for the entire family Build a house of cards or dominoes and allow them to destroy it...




Go Fish-

This game is my favorite to date. We bought this for my son for Christmas. It is so much fun. It's a memory matching game where kids fish for colorful cards with a plastic pole! This game includes a fishing pole with suction-cup equipped worm, four boats and 35 fish cards. As a family this is great for game night. Click on the Amazon widget below to purchase a fun game. Your toddler will love it.
I could go on and on forever but I won't. I just feel that in society we don't take the time to play toddler games with our children anymore. It is so important that we take out the time to have fun. They will grow up better and wiser just because we made them feel special. Have fun and play games now, while they are young.
Toddler Music is Beneficial For Development
Toddler Music can be beneficial for your child's development. Learn what is the best instrument for lessons and why you should choose classical over hard rock.


Leave Toddler Games and return to Toddlers Home