How To Make Healthy Toddler Recipes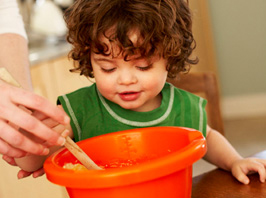 Toddler recipes can be really Fun to make. I am a healthy mom who believes in passing these same beliefs on to my toddler. It is so amazing how you can "disguise" many vegetables and make them into delicious meals! The internet is a powerful tool to finding some great things to make. So let's get started!!
I have decided to compile a list of some of my faves!! These are healthy and delicious! Your toddler will love all of these treats and remember the recipes are endless out here. Other Moms are the greatest tool for cooking good foods for your children.
Healthy Toddler Recipes
* Toddler Pasta Salad *
Ingredients:
A box of rainbow pasta. Or kids noodles. I have actually used Mickey Mouse organic noodles.
Cheese any kind your toddler likes
Vegetables

You"ll need 3 cups of raw vegetables. The choice is yours here are a few examples of my personal faves to use: Carrots, Broccoli, Cucumbers, Green and Yellow Onions, Zucchini Squash, Green, Yellow or Red Peppers.

Bottled Salad dressing (optional)
Directions:
Cook pasta according to package directions.
Cut cheese into small cubes.
Wash vegetables and chop them into small pieces.
Mix all ingredients with your favorite salad dressing. Italian works great!
Special tip: Keep the ingredients separate and let your child pick what he wants and choose whether or not he wants dressing on his. My son ate this salad with no dressing!
Fast Chicken Soup
Ingredients:
1 cup no-salt, low fat chicken broth
1/2 cup diced cooked chicken (save some from your dinner one night!)
1/4 cup of ditalini or alphabet pasta
pepper and garlic powder to taste
1/2 of a small diced onion if desired
Bring broth to a boil with the 1/2 cup of chicken then add the pasta. Cook on medium heat until the pasta is done to your toddler's preference. YUMMY!! You can throw in a handful of frozen peas and/or carrots to provide some extra nutrition.
This is so easy and good! My son loves chicken soup and these toddler recipes make it healthy and so delicious :)
"Healthy" Chicken Nuggets
Ingredients:
2 chicken breasts - sliced into thin strips (then sliced into cubes if you wish)
1 egg or plain yogurt
bread crumbs or crushed flaked cereal
Directions:
Scramble egg or spoon 4 tablespoons yogurt into a wide bowl. Dip the breasts strips into the egg or yogurt.
Roll in the bread crumbs or cereal. Fry gently in pure olive oil (about 1-2 teaspoons) or Bake until golden at the temperature you normally bake at (375F is a good temp)
Transfer to plate lined with paper towels, allow to cool and then wrap in foil or plastic wrap, then transfer to freezer.
"Turkey Meatballs" My signature dish**
Ingredients:
1 pound ground turkey
1 cup crushed saltine crackers
1 egg
spices such as garlic, pepper, basil, thyme and/or oregano
Onions, green peppers, carrots
Directions:
Mix ground beef with approximately 1 cup of crushed saltines, dice the vegies really small. We are "disguising these in the meatballs. Add 1 egg and the spices you have chosen.Vary the measurements as you blend the ingredients, you may require more/less saltines.
Roll into balls, bake at 375F until golden or for about 25-30 minutes. Do not allow these to burn. Cover the pan with foil to help prevent burning if need be. My son loves these and ask for them all the time. You can freeze what you don't eat for another quick lunch!
"Healthy French Fries"
Ingredients:
Potatoes
olive oil or PAM spray
Directions:
Cut your potatoes like fries. Spray a baking sheet with Pam, or cover the pan with Olive oil. Place your cut potatoes on the baking sheet and then spray them again. Bake at 400 degrees until brown. This toddler recipe goes great with the healthy nuggets!!
There you have it. Some of my family's favorite "Healthy" toddler recipes. I enjoy bringing healthy to the table with all of our meals. Even your snacks can be healthy. Remember to make sure that your toddler is happy and healthy, inside and out! Take Care and check out this amazing site below!
Healthy recipes for kids and the whole family!
Want to see your kids eating healthier and excited about it? Our healthy recipes for kids (and the whole family) and ideas to get kids excited about cooking and eating healthy can help.
I learned this long ago and welcome any new and exciting recipes. Check out the Amazon widget below!! Click on some of these great toddler recipe books!! Buy one today for some other great healthy recipe ideas for your kids!
Leave Healthy Toddler Recipes and return to Toddler Nutrition

Leave Healthy Toddler Recipes for Toddlers Home