Why You Should Purchase
Nike Toddler Shoes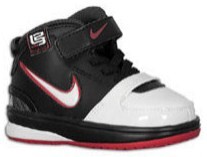 I am a huge fan of Nike toddler shoes. I know what you all must be thinking I am a crazy woman to actually be writing a page on Nike shoes. I love the product so much that yes I am! My husband and I believe in the shoes so ever since my son has been born he has worn Nike shoes.
It is not about the "brand" issue with me, it is truly about the comfort and quality of the shoe. You want your toddler to be comfortable. In my opinion when you purchase "cheap" shoes that is exactly what you are going to get. You are able to find discount shoes including Nike. Check out my page on this very tip and save money when buying your shoes.
Believe it or not, I do have a few tips on what you should remember when buying Nike toddler shoes. Lol I am a fanatic, but I have been buying these shoes for so many years and you learn a few tricks to get them at a fair price. Not only that Nike is a top product but there are a few things you need to know before you purchase the product. Then you can start shopping for those shoes!
Tips to remember when buying Nike Toddler Shoes
Nike's run a size smaller.

Did you know that? I never did until I bought my son a pair of New Balance's for play shoes and the Nike's he outgrew faster. I went to the shoe store and the clerk confirmed that Nike's do run smaller. So if all possible buy them a ½ size bigger or maybe even a size bigger. The choice is yours.

If you buy online, get your toddler's feet sized first.

It is a huge hassle to try and send back shoes that do not fit. You can take your toddler to any shoe store and make sure that you get their foot sized properly before ordering online. Again, don't forget about the bigger size.

Does your toddler have a narrow or wide foot?

Don't forget to take in account if your toddler needs a narrow or wide width. You know your toddler and their feet. Yes you can find Nike toddler shoes in wide width sizes!

You DO NOT have to pay full price.

Check out my discount shoe page for great tips on how to find these shoes below retail price. It is amazing that you can get these shoes at a great price.
There are so many different lines of Nike shoes. It never ceases to amaze me how you can buy those little shoes that look just like Daddy's. Not to mention that some of them cost about the same…..:). I am only kidding! I never pay full price for my toddler's shoes, nor should any of you. My tips help out greatly with that.
I would also like to mention a few of the reasons why I am a huge fan of Nike Toddler Shoes. My family has always used the product. We wear these shoes in the gym, to jog, or even for just running around shopping. The comfort is second to none, and the quality in my opinion is superb. Click on some of the images below from Amazon.com. Amazon has a great variety of Nike shoes at a low price. Check out my wonderful Amazon store below!
Reasons why I recommend Nike Toddler Shoes
The Comfort:

Each person is going to have a preference of what their exact level of "comfort" is. It will vary on your toddler's foot and size. I know that the Nike Air Max's are so comfortable and my son seems to enjoy wearing them. Again there are so many different lines Nike offers, so give them a try. Their little feet do deserve the best comfort.

The Quality:

Nike really is a great quality shoe. I am able to re-sell my son's shoes when he outgrows them. WOW! That is huge in itself. I mean I have washed Nike toddler shoes in the washing machine a million times and they always come out looking fresh and new, especially when I purchase white Nike shoes and wash them in a little bleach.

The Price:

When you add the comfort and quality then it is worth the price for good shoes. It is even better when you can get them at a discount. I am very impressed with this company and I have been so pleased with their toddler line of shoes.
So there you have it! Just a little information that I feel every parent should know. It's not just about getting the most popular shoe. I feel that Nike offers more than that. The shoe lives up to the name.
Keep all of these factors in mind, the next time you need to buy shoes. I proudly recommend Nike toddler shoes and I do stand by this product. So what exactly are you waiting for? Go out and get yours now.
JUST DO IT!

Leave Nike Toddler Shoes for Shoes For Toddlers

Leave Nike Toddler Shoes for Toddlers Home