The Truth About
Toddler Swimwear And Sun Protection
Toddler swimwear is the key to those hot summer days. I know my son loved to be in his pool. He could be in there all day long if I would let him. That is why I always keep plenty of swim trunks on hand. There is always room to have extras with EVERYTHING especially when you have a toddler.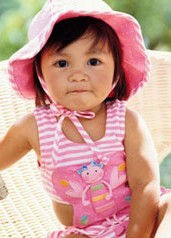 You want to keep in mind parents that you want your toddler to be comfortable. There is some swimwear that will easily come off or untie and get loose. The last thing your toddler needs to worry about is pulling at a tight strap or adjusting a twisted trunk. It is important that you find swimwear that works the best for your children. (not just because it is cute either…..LOL)
So that is why we are going to touch on this very subject about toddler swimwear. Now there are so many types of swimwear. You can actually purchase sun protection suits. These suits work better than just applying sun block. We all know how harmful the sun's rays may be. It is definitely worth looking into. Sun protection is the number one factor when deciding which toddler swimwear to purchase!
Sun Protection Swimwear
If you're concerned about your baby's sun exposure the sun protective swimsuit is a great way to be sure your baby has SPF 50 sun block on most of his or her body when you're at the pool or beach. The extra cost of these suits are made up in the comfort and durability of the fabric and the extra peace of mind you have knowing that you don't need to reapply sunscreen to prevent a baby sunburn. Add a matching swim hat and your baby will be protected nearly from head to toe!
Pros:
Sun block stays on your baby since it is part of the swimsuit. No need to keep re-applying.
The two piece design allows for easy diaper changes.
Thick, durable fabric stands up to baby and toddler water play.
Breathable and comfortable fabric with built-in SPF 50 sun protection.
Wide range of baby and toddler sizes and styles with coordinating accessories.
Cons:
Costs more than average baby swimsuits


It is an option worth exploring. It was like a wetsuit toddler! My son could never wear the one piece type of suit. Just because he is so picky about what goes on his body. So I have to make sure he is covered in sun block and wears a hat. This leads me to my next tip, on the subject of toddler swimwear.
What Kind Of Sunscreen Lotion Is Best For Toddlers?
I recommend choosing a "physical" or "chemical-free" sunscreen made with zinc oxide or titanium dioxide — look for one of those ingredients on the label. Unlike chemical sunscreens, which may cause irritation or allergic reactions because the skin absorbs the active ingredients, zinc oxide and titanium dioxide sit on top of the skin, forming a barrier against the sun's rays.
Also, sun blocks with zinc oxide or titanium dioxide start protecting as soon as you put them on. Any sunscreen that contains the physical blocker zinc oxide or titanium dioxide will protect against both UVA and UVB rays. This information I researched and learned from dermatologists and pediatricians.
What Should The Sun Protection Factor (SPF) Be?
The sun protection factor (SPF) should be at least 15, but you generally don't need to go above 30: Higher than that and you're getting smaller and smaller amounts of added protection — which, in a chemical sunscreen, means a higher dose of unwanted chemicals. It is ok to use a "children's" sunscreen, but don't go out of your way to buy one of these since they're usually no different from the adult versions. WOW!!
How To Put Sunscreen On Your Toddler:
Lay it on thick, making sure every part of his body gets a good covering.
Pay special attention to burn-prone areas like the ears, nose, back of the neck, and shoulders.
Reapply sunscreen often. Waterproof sunscreens may be slightly hardier than other products, but don't trust a label that promises to protect for eight hours.
Your toddler will need more sunscreen every two hours or every time they get wet or is dried off with a towel.
So depending on whether your toddler wears a sun suit or wears trunks and sun screen. It is important to think about how your child will be protected for the sun when buying toddler swimwear. Decide what will work best for your child and for you as parents. We just want to keep our toddlers safe. Check out some great prices below for sunscreens on Amazon.com. Click the pics below:
Additional Tips For Buying Toddler Swimwear:
Comfort:
Remember you want your child to be comfortable. Pick out suits that fit them well. I know you want them to be cute, but you do want them to not worry about fit either.
How Is The Suit Made?:
Where are the straps located?
Is it an elastic waist or drawstring?
Are the trunks too long or short?
Is there pockets?
What material is the suit made out of?
Price:
It is possible to find exactly what you want at a price you can afford. It is truly not that difficult.
Quantity:
Again, keep extra suits. Buy at least 5 or 6 for a season. You will get great use out of all of them. Trust me!
So there you have it, my take on toddler swimwear and how important it is to do your homework. You can decide the best for your family and go from there. Another special hint: You may want to buy extra pools too! It may just be my toddler but those break too, and I need "back up pools" as well….:)
Leave Toddler Swimwear for Toddler Clothes

Leave Toddler Swimwear return to Toddlers Home