The Truth About
Toddlers Speech Development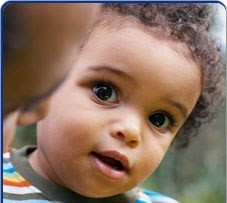 Toddlers speech is a very important milestone in the development of your child. As your baby grows into a toddler the parents are very much "in tune" to what their toddler should be doing and at what age. Regular check ups to the pediatrician along with the your awareness, the speech of your child will be monitored.
Speech is very important and sometimes may be delayed for a number of reasons. We will first talk about some important milestones to keep in mind. Always remember to bring any concerns to your child's doctor about their speech. They are there to help and discuss your child's development at all times.
Milestones in Toddlers Speech
At 12 months:
Your baby will attach "mama" or "dada" to the right person. Your infant can respond to one-step commands for example, ("Give it to Mommy").
At 15 months:
Your child may be able to say 10 different words. You may not be able to understand what they are speaking, but they will be attempting to talk.
At 18 months:
A toddler can say nouns (ball, cuppy), names of special people (grandma), and a few action words/phrases. The infant adds gestures to her speech, and may be able to follow a two-step command for example, ("Go to the bedroom and get the toy.")
At 2 years old:
Your toddlers speech is becoming understandable and they can combine words. Speaking simple sentences like "Mommy bye-bye."
At 3 years old:
Your child can use sentences two to four words long, follow simple instructions, and they will repeat words overheard in conversations. I know this one all to well. My son is 3 and he repeats EVERYTHING he hears. So remember to keep in mind what you surround them with parents. If you use foul language, your toddler is going to. Check out my Toddler Vocabulary page for more great advice!
At 4 years old:
Your child can understand most sentences that are four to five words long, can say his/her name and age. Any person should be able to understand your child when they speak to them. Their language at this age should be completely developed.
* Special Notes to remember *
Girls seem to develop the ability to talk before boys.
Never compare your toddlers speech to that of another child his/her age. The development of speech varies. You may be causing yourself unnecessary worry.
Language can happen suddenly. Your child can wake up one day and suddenly be speaking new words. You may also notice stuttering in your child's speech. If you notice stuttering in toddlers than consult your pediatrician. It may not be a cause for concern.
Children generally understand more (this is called "receptive speech") than they are able to express.
What Parents can do to help develop their toddlers speech:
Be aware of how you speak around your toddler. Again, I cannot stress this enough parents. My husband and I do not use foul language at all. My 3 year old has never ever repeated a bad word because he never heard one. Use manners such as Please and Thank you. My son was saying thank you at 13 months old. It is the greatest gift you can give your child. Plant positive good seeds in your toddler, yes and that includes what they "hear" around them.
Read books CONSTANTLY to your child. Even as a baby. This helps them to develop skills to speak and pronounce words properly. I read to my son in the womb. I believe this contributed to his advanced speech.
Talk to your child as you would any adult. Do not use "babytalk". Introduce new words at all times. When you go to the store point out different items such as "Apples" or "chicken. Etc. I will also play a game and we will point out different colors and shapes that we see. Again, it starts with the parents. YOU can help your toddlers speech develop properly.
Do not finish your child's sentences. Allow them to complete their own thoughts. This is very healthy for their development.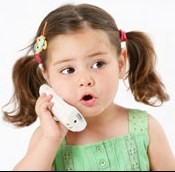 Always keep in mind that if you feel that your child's speech is not developing as it should be, to contact your pediatrician. These are just tips and advice that can potentially help with a normal developing toddlers speech. As parents, we have to step up and realize just how important our role is in our toddler's development. Remember that we are the greatest teachers for our children.
* I am not a Doctor or Licensed Professional in the field of toddlers speech. I am a stay at home Mom passing on tips, advice and information that are based on my opinions. Always remember to consult your pediatrician with serious questions concerning your child and their development.*
Leave Toddlers Speech and return to Toddler Development

Leave Toddlers Speech for Toddlers Home