Ballet Shoes Toddler


Ballet has an irresistible appeal for many girls, and ballet shoes toddler wears can help her to feel as lovely, graceful, and agile as the dancer she dreams of being. Since ballet shoes are soft and flexible, they're an ideal house shoe as well; allowing your daughter's feet to flex and move even as they protect her from rough ground or keep her feet warm around the house.

Ballet Shoes Toddler Wear Should Be…
When you're buying a ballet shoe, you want something...
Durable; there's no reason for it to wear out before she outgrows it
Simple; to fit in perfectly with her ballet dress, and not draw undue attention to her little feet
Flexible; so that she can run, dance, and spin in them
A good fit, so that they neither pinch her feet nor make them large and clumsy.
Buying Your Daughter's First Pair of Ballet Shoes
You can often find higher quality ballet shoes online than are readily available at your dance shop or dance studio, unless you live in a large city with all the best stores. There's one thing you should be aware of when buying ballet shoes for toddler, though. Dance shoes are sized differently than regular shoes, and you'll want to be aware of the difference when you make your order. If you buy Capezio dance shoes, buy a full  size up from what your daughter usually wears.  If you buy Bloch dance shoes, buy ½ size up.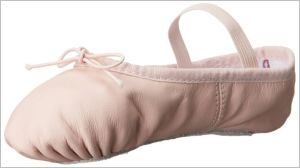 Bloch Dance Bunnyhop Ballet Slipper
What shoes should you buy? If you are ordering from Amazon, you have several good choices.  Perhaps the highest rated ballet shoes for kids are the Bloch Dance Bunnyhop Ballet Slipper, a pink leather ballet shoe with swan down lining and a soft cotton interior with little bunnies dancing about inside. The sole is leather as well. These shoes have an elastic drawstring that you can tighten for the perfect fit, and an elastic strap over the instep to keep them nicely on.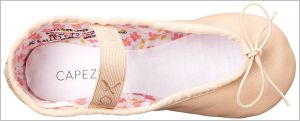 Capezio Daisy Ballet Shoe
Another nice ballet shoe is the Capezio Daisy 205 Ballet Shoe. This shoe comes in three colors; ballet pink, black, and white. The ballet pink is not as definite a pink color as is Bloch's bunnyhop; it is slightly more of a nude shade. These little ballet shoes toddler are also leather, with a suede sole. The lining is hung cotton, and the pink shoes have little light colored bunnies on their cotton insides, the white shoes little black bunnies, and the black shoes no pattern at all.  These shoes also feature a elastic drawstring and an elastic strap.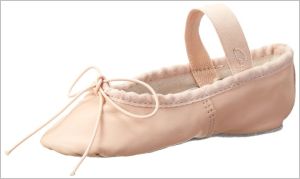 Capezio Toddler Teknik Ballet Shoes
For a slightly different style, you can also look at the Capezio Toddler Teknik 200 Ballet Shoes. These comes in two sizes, 'new pink', or black. They are leather, with a man made, durable sole,  full suede sock lining, and hung canvas lining.  With no girly buttons or flowers, these ballet shoes toddler are perfect for both boys and girls. 
Again, remember that ballet slipper sizes differ from street sizes, and buy accordingly! If you don't, you'll end up something that your toddler can't even fit his or her feet into. 
Click here to return from Ballet Shoes Toddler to Toddler Footwear