Toddler Christmas Fun


How do we make toddler Christmas memorable? Your baby may have had her first Christmas; but when it comes down to it, baby's first Christmas is more about mom and dad than about baby. Your toddler's first Christmas is when the holiday really comes alive, and you get to treat your little boy and girl to a first understanding glimpse of holiday traditions, Christmas tinsel, and special foods.
You and Your Toddler at Christmas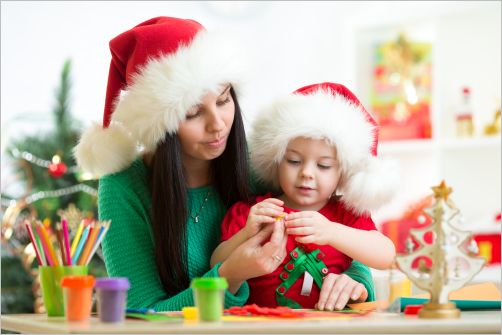 There's so much you can do with a toddler at Christmas time. It's a beautiful chance to begin your own holiday traditions; traditions you can keep up as your child grows.  Some of these holiday  may involve hanging of toddler Christmas stocking and Christmas toys for toddlers; special toys you keep in the attic or another storage area all year and take out just for the Christmas season. It's a way to brighten up the month of December for your child, and bring holiday cheer even into everyday playtime. 
Christmas Presents for Your Toddler
Of course, besides the Christmas toys—which are brought out at the same time as the holiday decorations—another important part of Christmas with little people is always the presents on the big day! Have a look at our gift ideas for toddlers and top toys for toddlers for ideas on what to get. Most families will get both:
• Stocking stuffers--- little, fun presents and Christmas candy that fit in the stocking
• Christmas morning gifts—larger gifts that are wrapped and left under the tree to be unwrapped in the morning.
Shopping for your toddler's Christmas can be lots of fun if you don't let yourself be stressed by it. Remember, you're not out to impress anyone buy your little guy or girl, and there's no one better than you at thinking of ways to make that toddler happy! Toddlers don't care about the price tag or where an item was bought, but tears caused by a broken toy are no fun at all on Christmas, so buy durable, quality playthings that your child will enjoy playing with. 
Decked Out for Toddler Christmas

There's just one sad thing about Christmas—you get so few of them with this particular super-special toddler! Before you know it he will have grown up to be a kindergarten, then a schoolchild, and then you'll be celebrating Christmas during his winter break from college. That's why pictures are all important. And if you are taking special heirloom Christmas pictures of every special moment with your toddler, you probably want him or her to be wearing something special.  That faded t-shirt or too small sleeper just doesn't have much of a holiday air to it. 
Toddler Christmas pajamas are great fun for photo-ops, especially for special late night hot chocolate drinking or Christmas morning stocking opening. 
If you have a little girl, be sure to get her a Christmas dress as well—she'll need it for the big day, as well as for any special holiday parties! And, of course, the inevitable—and, to your future self, priceless—Christmas picture!