Are You Looking For Toddler Bed Sheet Sets?


Toddler bed sheet sets are important if you're transitioning from a crib to a toddler bed.  There are all kinds of bed sheet sets for toddler bed on the market today, with fun, playful designs aimed at delighting the heart of any toddler.
Some of the most popular toddler bed sheet sets are:
Those are not the only options you are limited to though! Remember that what thrills one toddler may be uninteresting to another, and choose your toddler's bed sheet sets to reflect your little one's own likes, dislikes, and creative interests.
Qualities of Good Toddler Bed Sheets
Aside from the patterning, there are a few things you will want to take note of when you buy your toddler's sheets.  
• Price— Unless you plan to have many more children after this toddler is grown, toddler bed sheets have a very limited life. So unless money is no object, don't plan to spend a fortune on bed sheet sets.
• Material/Feel—Your toddler is hardly more than a baby, and soft toddler sheets are much comfier to cuddle down in than stiffer material would be.
• Washability—Little ones still make big messes, and you should make sure all your toddler's bed sheet sets are easily washable.
You'll want to have at least two special bed sheet sets for toddler bed, so that when one goes in the wash the other is ready to go on the bed.  A waterproof mattress pad or mat is also a good idea to put between the mattress and the sheets, so your mattress stays safe in case of toddler accidents. You can get either a plain mat or one with fitted sides which fit over your toddler mattress; this kind is generally better because it won't slip off or bunch up under the sheets when your child rolls around at night. 

Some of our Favorite Toddler Bed Sheet Sets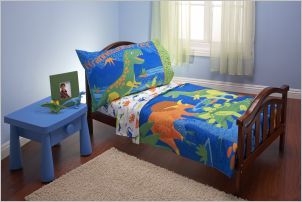 Everything Kids 4 Piece Toddler Dinosaur Bed Sheet Set
If your little boy is into dinosaurs he just might love the Everything Kids 4 Piece Toddler Dinosaur Bed Sheet Set . This set is microfiber, so ultra soft and warm, and contains a pillowcase, fitted sheet, flat sheet and quilt.  The colors are bright, the dinosaur pictures fun and exciting. It's machine washable in cold water and never needs ironing. It's also very affordable.
For little girls who love fairytales there's the Everything Kids 4 Piece Fairytale Set.  This is also polyester microfiber and deliciously soft. A frog prince is on one side of the pillow; on the other you have a castle. The quilt includes both frog prince, castle, and a very fun owl and cheerful sun.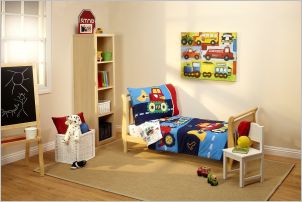 Under Construction Everything Kids 4 Piece Bed Sheet Set
The Under Construction Everything Kids 4 Piece Toddler Bed Sheet Set is another very fun option for little boys. More  polyester microfiber here, which means cuddly softness for your little fellow. The colors are bold and bright; dark blue and light blue as well as red, yellow, and green. The comforter is quilted and sure to keep your little guy warm on those colder nights, and the pictures will make your construction-truck-lover want to spend the whole day on his bed.
Enjoy shopping for toddler bed sheet sets for your little one, and enjoying watching him or her use them! This toddler-time will be over before you know it, and your little button may not be so photogenic as a gangly teenager, so take lots of pictures now.