Cinderella Toddler Costume


Is a Cinderella toddler costume on your list of things to buy? There's something about Cinderella—brave, kind, and just a little bit magic-- that appeals to the imagination of almost every little girl, and no one would mind their little daughters turning out as gentle, thoughtful, brave,  and forgiving as the heroine of the movie.  So if the world turns around Cinderella these days, indulge your little girl's fancies by dressing her up as the beautiful princess you know she is. 

Making a Cinderella Toddler Costume
If you're sewing your own Cinderella costume you'll want to make a beautiful princess dress with a long, full skirt, reminiscent of old-time ball dresses. Cinderella's ball dress is a light forget-me-not blue, and should be made in satin or imitation silk. Gauzy petticoats will help the dress puff out and flow on smooth, long lines.  You may want to have a look at some of the costumes below for ideas as you make your own. 

Buying a Cinderella Toddler Costume
If you're buying a Cinderella toddler costume Amazon.com may well be your first stop; their catalogue includes a wide selection of Cinderella dresses, from old style cartoon imitations to newer designs that are made after the live action film of 2015.  The dress you choose will depend on what, to your little daughter, means Cinderella: is she a dyed in the wool fan of the animation, or is it the beautiful Ella of the 2015 movie that has captured her heart? 
Disguise Disney's Sparke Deluxe Girl's Costume
If Cinderella to your daughter is the Cinderella of the beloved Disney animation, Disguise Disney's Sparke Deluxe Girl's Costume may be for you. This is a pretty blue dress with a cameo petticoat and lacy details, and also comes with a flowery headband. It's the kind of sparkly dress that makes a little girl feel immediately like a Disney princess, just on the lookout for fun princess adventures.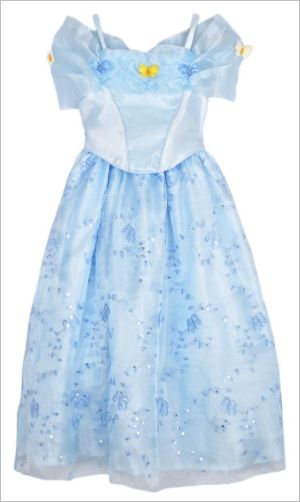 Ella's Blue Dress
Would you like a closer representation of the 2015 Cinderella? The 2015 New Cinderella (Ella's Blue Dress) is a lovely representation of the dress Ella wore to the ball;  a shimmering blue in a sweeping princess style. This dress is 95 % cotton and the soft material won't feel scratchy on your little girl: important, since it isn't meant to have layering underneath it. There are four different sizes fitting from three to eight year olds, according to the manufacturer; but you may need to buy a size up if you don't want a very snug fit.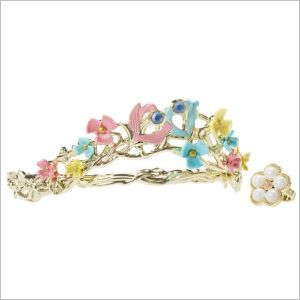 Wedding Celebration Tiara and Ring
Or is it Cinderella's wedding dress that has captured your toddler's heart? The 2015 New Cinderella Ella's Wedding Dress Costume is a beautiful white dress with butterflies over the bodice and skirt. The arms are full length sheer; and the whole dress is a soft and comfortable-to-wear 95 % cotton blend.  Add the Wedding Celebration Tiara and Ring to this costume, and your daughter will feel as special as a princess on her wedding day. 
Cinderella Cosplay Butterfly Dress
Another pretty blue Cinderella dress is the Cinderella 2015 Cosplay Butterfly Dress: another lovely blue dress with a full skirt and sweeping lines. Unlike the  other, this one has butterflies encircling the neck for a beautiful touched-by-magic effect; the neck also seems to go a bit higher.  This dress may be more appropriate for a younger toddler. 
Enjoy watching your princess glide about the house, and remind her: what made Cinder-Ella most beautiful was not her fairy-grandmother ball dress, but her loving heart radiating beauty outward. 
Click here to return from Cinderella Toddler Costume to Toddler Costumes

Click here to return from Cinderella Toddler Costume to Home Page