Crochet Toddler Dress Pattern
Finding a book with a good crochet toddler dress pattern in it is not always easy. There are lots of books on crocheting for babies and toddlers, and most of them are full of beautiful pattern; but cute baby blankets, adorable little booties, and fun little hats take up most of the space. Those patterns are all very well and good, but if you have a little toddler girl, it's likely you'll want to make her a pretty crochet dress—and though you could, conceivably, just wing it, a good crochet pattern makes things so much easier. 
Finding Your Crochet Toddler Dress Pattern
Here are reviews for three crochet pattern collections that include toddler dress patterns. A crochet toddler dress pattern is all you need—besides yarn, needles, and a bit of time—to outfit your daughter in her first crochet dress. A crochet dress pattern may be one size only, in which case you need to choose one that fits your child, but most  include instructions for a variety of sizes.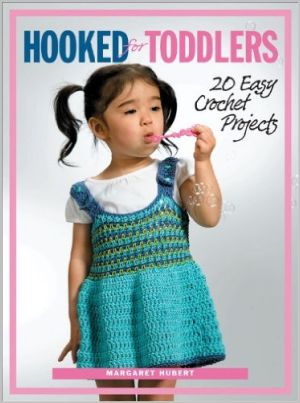 Hooked for Toddlers: 20 Easy Crochet Projects
Hooked for Toddlers: 20 Easy Crochet Projects 
This book, by Margaret Hubert, includes lots of patterns that aren't toddler dresses—but there are dresses too, and they are cute enough to make it worth buying the whole book. I love the little dress on the cover; it makes me want to go out yarn shopping and start crocheting for my little girl immediately. When she wears my dress, I know she'll look even cuter than the model!
These aren't your complicated patterns for the experienced crocheter— all of these patterns are accessible to a novice, and the book includes a basic tutorial in crochet stitches. But though they're easy and clear, the results you get are also professional looking clothes that you won't hesitate to put on your child.
One downside: the sizes in this book only go up to 2T, so work best for a younger toddler. That said, she does include instructions for how to size up; you'll just have to do the math and alter the pattern yourself for a larger toddler girl. 
Dresses in this book:
• Pretty posies dress (with a pretty posies hat)
• Two-piece dress
• Cool Stripes Sundress (and Cool Stripes Doll Dress)
• Easy, Breezy, Sleeveless Dress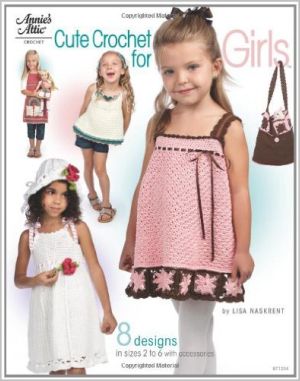 Annie's Attic Cute Crochet for Girls
Annie's Attic Cute Crochet for Girls: 8 Designs 
This is a tiny little paperback, but it's chock full of professional photos and has good instructions as well.  There are two crochet toddler dress patterns, both of which you can see modeled on the cover—Storytale Jumper and the Olivia Rose set. The sizes here are from two to six, so spanning the whole toddler range. Other patterns include a pretty smock, a rainbow apron, and a little tote that matches the Storytale dress.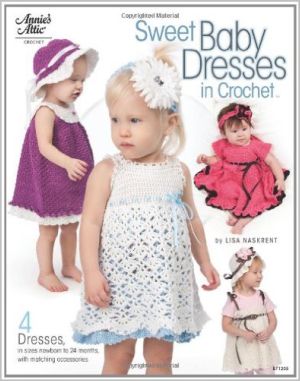 Annie's Attic Sweet Baby Dress in Crochet
Annie's Attic Sweet Baby Dress in Crochet: 4 Dresses in Sizes Newborn to 24 Months 
If you've got a little toddler you have even more options: the author (Lisa Naskrent) and publisher (Annie's Attic) of 'Cute Crochet for Girls' has also put out a lovely little volume of smaller patterns. These are for newborns up to 24 months, so they'll just work for your toddler's first year of toddlerhood; but after you've made them all you'll probably be such an adept crocheter you can adapt them into older toddler patterns as she grows. The patterns included are Haylin's Twirls, Madison's Boulevard Set, Ariel's Lace Dress, and Stella's Cable Set: nothing amateur about any of these.
Click here to return from Crochet Toddler Dress Pattern to Home Page