Dora the Explorer Toddler Bed


A Dora the Explorer toddler bed is a fun way to make a little Dora fan feel special, and to give her a  bed that she can find exciting to sleep in. Maybe it's something they don't sell at your local Walmart, but no fears: the internet brings an enormous marketplace right to your computer screen, and you can buy all the Dora fixings your little girl could possibly need right from the comfort of home.

Decisions, decisions—that's always where it begins. When you buy that cute Dora the Explorer bed for your little girl, do you want one with a canopy or without? Without is cheaper, of course, and perhaps a little easier to put together. A canopy, though, just might be the little extra that tips the scale from a pleased to ecstatic little toddler bed owner.
Dora the Explorer Toddler Bed: Your Choices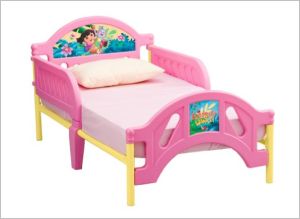 Basic Dora Toddler Bed
The basic Dora the Explorer toddler bed is a fun, sturdy toddler bed in pink and yellow. The frame is stainless steel; the rest of the bed child-safe, sturdy plastic. There is a half-rail on both sides of your daughter's pillow to keep her in her place, but if she should fall down, the bed is low enough to the ground she won't be hurt.  There's just one possible pitfall: your little girl may be so engrossed in the picture of Dora the Explorer on the headboard she may have difficulty going to sleep for a few nights.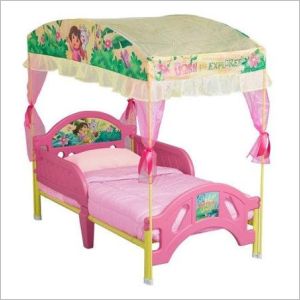 Dora the Explorer Bed with Canopy
Are you happy to spring for the canopy? The Dora the Explorer toddler bed with canopy is the same pink and yellow bed but with a canopy extension. The canopy curtains are pink; the upper section is pink yellow, and green for the leaves in Dora's forest.  There's no way your child can help feeling ultra-special when sleeping in this bed, and it is sturdy enough to take a certain amount of rough play—though nothing too extreme. 
When the bed is bought…
Once you've bought your toddler bed you're likely to want bedding to go with it. Since a toddler bed fits a standard crib mattress you can just continue using the crib sheets you used when your daughter was in a crib or pack and play, but you may want to extend the Dora theme and get a bedding set especially for her brand new bed.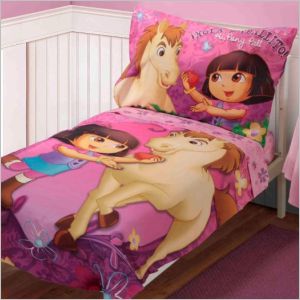 Dora the Explorer 4-Piece Bedding Set
The  Dora the Explorer "Pony Adventure" 4-Piece Toddler Bedding Set is a nice, budget friendly bed set for your little explorer's bed.  There is a quilted bedspread, a flat top sheet, a fitted sheet, and pillowcase. Every part of this wet is 100% polyester, but it is high quality and feels soft, not scratchy.  The blanket is light, so it is perfect for summer: if your house gets cold in the winter you may want to consider layering another blanket between the comforter and top sheet.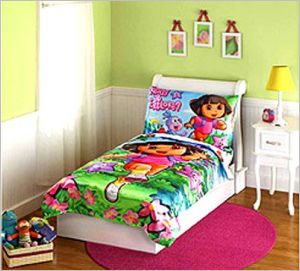 Dora the Explorer Satin Toddler Bedding Set
But would you like to put your daughter to bed between satin sheets? The Dora the Explorer Satin Toddler Bedding Set is certainly pricier, but the silky softness of these sheets and comforter may give your daughter a wonderful sleep experience. In the bright-colored comforter, Dora is running in a beautiful landscape outside, accompanied by three happy stars.
Enjoying surprising your little girl, and may she—and you—enjoy your sleep!
Click here to return from Dora the Explorer Toddler Bed to Ideal Toddler Bed

Click here to return from Dora the Explorer Toddler Bed To Home Page