Toy Review: Duplo for the Youngest Toddler
A Duplo for the youngest toddler is perfect when she's starting to get excited about stacking her soft blocks, making towers and knocking them over again and again. She's ready to do more architectural explorations, though she's not quite at the fancy lego construction phase yet. What do you buy her? 
Duplo! Lego for little people. And there's a funduplo set out just geared toward the youngest toddlers, at a price tag that every family can afford.
What is Duplo?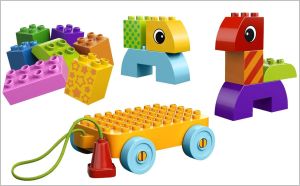 Duplo Creative Play Set
Duplo is like lego, only oversized; sturdy plastic pieces that fit together and stay together until pulled apart.  Duplo blocks large enough they pose no choking hazard, and sturdy enough they are  pretty well impossible for a toddler to break. 
The pieces of this Creative Play set are all extra-large duplo, so they're perfect for your little toddler's pudgy hands. In a year or so your child will  be ready to build big towers with lots of blocks and you'll have to rethink your toy budget,  but for your one year old toddler this cute little set may be all you need. 
Lego Duplo Creative Play Toddler Build and Pull Along 10554
This Duplo set contains just 15 brightly colored pieces, but that's enough for a little one to do lots of exploring with.  These pieces include some fun arches that make wonderful creature legs, and other blocks with large, solemn eyes of the kind my little one just loves. 
The base plate is actually a pull-along wagon with a thick cord. Your toddler will have lots of fun building animals—or just stacking the blocks into a doubtful-looking tower—sticking them to the wagon, and dragging the whole caboodle all over the house to show daddy, mommy, and anyone else who can be coaxed into looking. 
Here's a basic rundown of what the set contains:
1 large pull-along wagon
2 brightly colored arches/ sets of creature legs
12x4duplo piece
7 extra-tall 2x2 pieces, each with a different color and pattern
2 sloped extra-tall 2x2 piece, in different colors,  each with two eyes
2 double-sloped2x2 pieces
What's Wrong with Duplo for the Youngest Toddler?
What's wrong with this set? Not much, unless you want something bigger. Your one year old will certainly enjoy the fifteen elements and be able to do a lot with them—but he may have more fun with more blocks. More blocks come with a higher pricetag, so it may come down to a budget decision. 
There's only one other negative opinion I can find for Duplo for the youngest toddler —the cord on the pull-cart is too short to pull comfortably, even for a little toddler. This is annoying, but it is the Lego company trying to make this product absolutely, a hundred percent safe—a longer cord would introduce a  danger of suffocation if your toddler got it around his neck. If your child will be playing under supervision, you can always tie an extra bit of cord around the knob so  that your child will be able to stand straight as he pulls his special creations. 
Click here to return from Duplo Set for the Youngest Toddler to Home Page