Easy Toddler Meals
Almost any parent of a toddler will tell you the same thing: easy toddler meals are the way to go. You don't want to spend hours on a fancy lunch for your toddler, only to have him or her eat one bite and then reject it. Toddlers are finicky eaters, and often hard to please. One thing I've found:  beautiful simplicity is much more likely to get a vote of approval from a little person than the most fancy cuisine.
Easy meals for toddlers are usually meals you can prepare in fifteen minutes or less, using ingredients that are close at hand, or at least easy to find at the supermarket. They should be meals that appeal to your toddler's sense of what is good; and meals that are really good for him as well. Your toddler isn't a garbage can, and doesn't need to be eating junk.
Easy Toddler Meals For A Busy Family
Here are three recipes for easy toddler meals; meals that are easy for mom, tasty for toddler, and healthy for anyone who eats them!
Animal Pasta
• Dry animal pasta (or any other fun shaped pasta)
• Spaghetti sauce 
• Shredded cheese (optional)
Put a small pot of water with ¼ tsp salt on to boil, and when it boils add the animal pasta.  Boil for around six minutes, or according to the directions on the pasta. The shapes should be soft and tasty but still firm. Drain the water out, then slowly pour in spaghetti sauce till all the noodles are nicely covered. Add a few tablespoons of shredded cheese; stir until the cheese is melted, and then serve to your toddler. 
Toddler Hutsput
An easy variation on an old-fashioned Dutch meal.
• 1 potato
• 1 carrot
• ¼ small onion
• 1 hotdog
• salt and pepper to taste.
Mince the onion, cut the potato and carrot in chunks, and put everything in a pot to boil. When the potatoes and carrot are soft remove the hotdog and mash the potatoes and carrot together into a creamy, well-mixed mash. Slice the hotdog into toddler-bite-sized pieces, then add it to the mix. Season with a very small amount of pepper and salt to tast
Toddler Quesadillas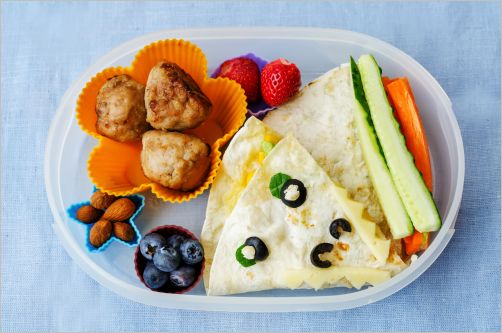 Here's one that only takes three minutes from start to finish! 

• 2 corn tortillas
• 1/8 cup shredded mozzarella
• minced onion, unless your child doesn't care for it
Place one tortilla on a plate; cover it with the mozzarella, leaving a ½ inch edge along the side. Place the other tortilla over, and microwave 40 seconds, or till the tortilla is soft and the cheese melted. Cut into fourths, and serve partly cooled, with a side of sliced and salted cucumber and some cherry tomatoes, halved. 
As you can see, there's a whole lot of variety in what you can make when you want easy toddler meals. Pretty soon you'll be so good at it you'll be able to simply look at what is in your fridge and whip up your own concoctions: concoctions that your toddler will love.