Firetruck Toddler Bedding


Time for firetruck toddler bedding! My little boys are enamored by firetrucks, firemen, and anything fire-station related—and I feel it's a good thing. To a toddler boy, a fireman is the modern day equivalent of a hero in shining armor, slaying dragons—a man who will charge into the most dangerous of situations just to save people. 
That doesn't mean that, in order to raise a hero, you have to redecorate the nursery with a firetruck theme—but your little boy may be ridiculously pleased if you do. And the bright red is a happy, cheerful color, so you could do a whole lot worse. 
Firetruck Toddler Bedding for Your Everyday Hero in Training
What do you start with when you begin redecorating your child's nursery? With the bed, of course! Kidcraft has a cute toddler firetruck bed your little boy will love to sleep in—but be prepared for him to spend a whole lot of the day up on their too, driving off to fires here there and everywhere!  This bed is easy to assemble. The side rails mean that this bed is safe even for a toddler who's just graduating from a baby crib, and the bed is low to the ground. 
Kidcraft Toddler Firetruck Bed
What about the actual firetruck toddler bedding?  Here you have three good options. Carters has a high-quality, four-piece firetruck bedding set; this includes a flat sheet, fitted sheet, pillow case and a cozy comforter.  The comforter and pillowcase are microfiber, so super soft and cozy, and the sheets are a cotton polyester blend. The color scheme is red and gray, with  large firetrucks on the comforter and pillow and little firetrucks all over the sheets.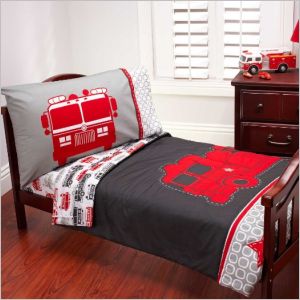 Carters 4-Piece Firetruck Bedding Set
A slightly cheaper, more playful option is Sesame Street's four piece Toddler Firetruck Bedding set ; this is again a comforter, pillowcase, and flat and fitted sheets. This set is all polyester, and the comforter is thin; since there's no microfiber here you'll find it's not as soft as the Carter's set. The graphics are fun and the colors more cheerful, though, so it may be nice for a younger toddler or a fan of Sesame Street.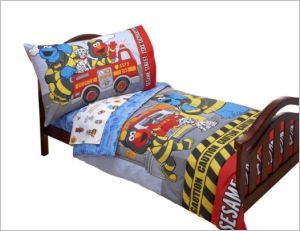 Sesame Street's 4-Piece Toddler Firetruck Beddings
Your third option is Frankie's Firetruck Toddler Bedding 5 pc set by Sweet Jojo Designs. This set is all cotton, so it breathes well, and it includes a comforter, flat and fitted sheets, a pillowcase and a pillow sham. The design is beautiful; red firetrucks and dalmations on a light blue base. The only downside to this bedding set is the price—you need to decide how much it makes sense to spend on toddler bedding. If you decide to go this route, though, you can get a matching bedskirt, a matching valence, and matching handcrafted wall-hangings. These will give you a beautifully well-coordinated room.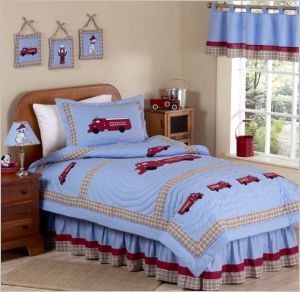 Frankie's Complete Firetruck Bedding Set by Sweet Jojo Designs
If you've got some extra cash to spend you may want to get a firetruck hydrant bedside table as well, or a little firetruck bookcase.  Both of these bright red pieces of furniture give your toddler special places to store his treasure, even while adding a bit of firehouse charm and charisma to the room.
KidKraft Fire Hydrant Toddler Table
There you have it: everything you need to transform your boring nursery into firehouse central. We'd love to see what you do with our ideas—please post a picture in the comments after you're redecorating is done!

Click here to return from Firetruck Toddler Bedding to Toddler Bed Sheet Sets

Click here to return from Firetruck Toddler Bedding to Home Page