Games Toddlers


Finding games toddlers can play is hard to the uninitiated, but don't worry, there are plenty of fun options out there! Toddlers are smart and quick thinking, and they can pick up on many games so long as they aren't tooo complicated and don't rely on any previous knowledge.  Games toddlers enjoy often have fun, whimsical artwork or plastic pieces; they are almost always easy on the eyes and bright colored. Here are a few recreational activities toddlers love.

Games Toddlers Love—A Few of Our Selections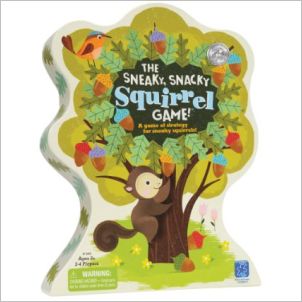 Sneaky, Snacky Squirrel Game
This list of  love starts with the Sneaky, Snacky Squirrel Game because it's one of the easiest for toddlers to pick up on, and they love playing with the fun, whimsical pieces to reach their goal! They're also working on a variety of important skills: taking turns, matching, strategic thinking, sorting, fine motor skills and eye-hand coordination. The goal of the game is to fill your log with delicious acorns before anyone else has done so, and to do this you spin a spinner and use special squirrel tweezers to pick up the right acorn and put it in it's slot. This game is fun for toddlers aged three and up; a two year old, well supervised, could understand the goal and what's happening, but the pieces are a little small for that age.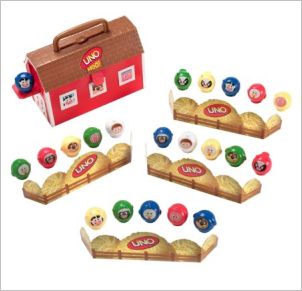 UNO Moo Game
Another fun game for toddlers is the UNO Moo Game: a preschool version of the much loved family favorite UNO! Instead of number cards, your toddler will be using chunky plastic animals, and the goal of the game is to get them all tucked away safely in the barn. When the next to last animal is home safe, your toddler will call out UNO MOO! To alert everyone to the fact that he's almost won. This game gives your toddler a chance to work on colors, counting, matching,  as well as taking turns and 'playing nice': being a good winner or a good loser, whichever way the odds work out.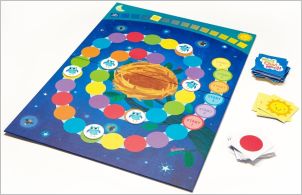 Hoot Owl Hoot Game
Is it too hard for your toddler to lose, or do you want a game that discourages the competitive streak in him or her and encourages cooperation instead? Then try one of the Peaceable Kingdom Games. Hoot Owl Hoot is a fun game for older toddlers, with a fun board and a variety of beautifully colored cards. Your toddler will be racing the sun to bring the owls to their nest; but he'll need to work with the other players in order to do that. If he wins, everyone wins; but if through non-cooperation or mischance the sun wins, all players are losers. This game teaches strategic thinking, cooperative participation, turn taking, and lots of important social skills, and your toddler gets to work on his colors too!
Another fun Peaceable Kingdom game is Seeds for the Birds: here little players work together to make sure Mama Bird gets enough seeds for her babies—before the greedy squirrel eats them all!  This game is a Winner of the Oppenheim Toy Portfolio Platinum Award; like Hoot Owl Hoot, it'll help your child learn community participation, cooperation, and a host of social skills, and he gets some number comparisons in there too. 
Which of these games toddlers love would be the biggest hit for your toddler? Why not order and try it out today—you haven't much to lose!