Halloween Costumes for Toddlers
Time to look for Halloween costumes for toddlers! We all want something unique, something eye-catching, and at the same time something that will set of our toddler to advantage and make him or her look undeniably cute. For a little girl, a toddler flower costume may be a very good choice.
Flower Costumes for The Smallest Toddlers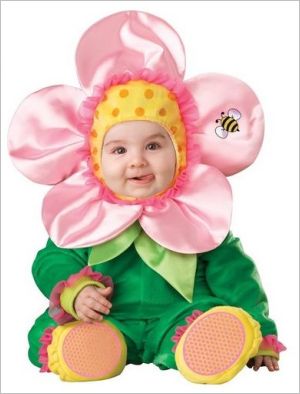 Lil Characters Infant Flower Costume
The costumes available for little toddlers—in up to 24 month sizes—are in general the cutest. Like Lil Characters Infant Flower Costume; a lush green bodysuit (that's the stem) with little non-skid booties and a flower hood. The pink flower hood is beautifully designed to frame your child's face. The zippered bodysuit is plush, with satin-type lining; the flower petals also appear to be some type of satin fabric. It is made of polyester nylon blends, and can be dry-cleaned or hand washed; you may or may not be able to get away with putting it in the machine; gentle cycle on cold. The sizing on this costume tends to run large, so consider ordering half a size down.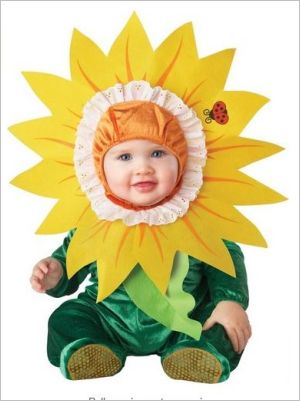 Lil Characters InCharacter Unisex-baby Infant Sunflower Costume
A very similar—and similarly adorable—costume is Lil Characters InCharacter Unisex-baby Infant Sunflower Costume. Here again you have a green bodysuit, with a zippered back and snaps at the crotch for diaper changing; the big difference is that the feet are one piece with the body, rather than separate as in the Infant Flower. Of course, the flower is different too: this time you have giant sunflower rays surrounding your child's face rather than satiny pink rounded petals. Again, this costume runs large, so either order half a size down from what your child usually wears or else expect a roomy costume.
Flower Halloween Costumes for Toddlers in Larger Sizes
For an older toddler, two pretty options are the Rasta Imposta Daisy and the Rasta Imposta Daffodil. Both these costumes are little dresses with the flower petals around the waist, rather than framing the face; there is a little headband with an artificial flower stuck on that goes with the set. The complete costume includes a dress, bloomers, headband, and wand. For the daisy, the dress is white, green and gold, the bloomers green; the daffodil dress is orange and yellow and also comes with green bloomers. These dresses are 100% polyester and can be handwashed, but they're a bit thin and the quality may leave something to be desired. They may be a lovely choice for long time wear, but don't expect them to last in the playroom. 
Rasta Imposta Daisy
If you'd like something more jumpsuit style, like the Halloween costumes for toddlers in small sizes, InCharacter's Baby Blossom is a well-made and very cute choice. Here you have a green jumpsuit, green overshoes, and a flower head; like the Infant Flower, the face is framed in pink petals. There are two leaves at the neck. In fact, this costume is almost identical to the Lil Character's Infant Flower, with just a few age-appropriate changes. It comes in sizes 3T and 4T and does not run large—in fact, it may possibly be on the small size as compared to street wear.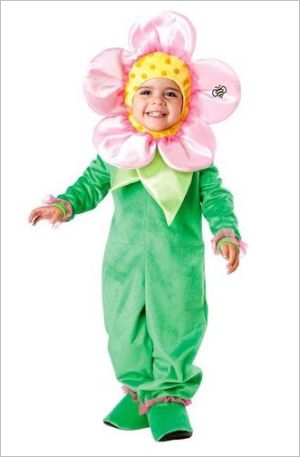 InCharacter's Baby Blossom
Your daughter will make a beautiful flower however you choose to dress her. Halloween costumes for toddlers are all about stepping out of the mold, and letting your child be whatever she might dream of being for just one day.  If she'd love to be a flower, well, then, a flower Halloween costumes for toddlers is the only way to go!
Click here to return from Halloween Costumes for Toddlers to Home Page