Hello Kitty Toddler Bedding


Hello Kitty toddler bedding is a wonderful way to dress up your toddler's room. A Hello Kitty theme can transform her sleeping quarters from just any room to her own special place, a corner that caters just to her and her ideas of what is lovely and beautiful. There's something about thissimply-drawn white cat that is immensely appealing to a small girl's sense of aesthetics—as well as to the child in all of us. 

The nice thing about buying Hello Kitty bedding is that you have a number of options, and should be able to find something that fits in perfectly with the rest of the room's décor. 
Here's your Hello Kitty Toddler Bedding Choices


Hello Kitty Springtime Friends Bedding Set
If you like a little bit of color this Hello Kitty Springtime Friends toddler bedding set (4 pieces) may be for you. On the comforter, Kitty is out enjoying the sun in a green garden; but there's still enough pink in the border to make it a predominantly pink blanket. The pillow, featuring Hello Kitty again, is pink, white and blue; and the sheets are a pink print with little bows, hearts and kitty heads. Since this bedding set is all polyester microfiber, it's super soft, and your daughter will love crawling in between the sheets. 
The comforter is thin enough to be comfortable in a summer or during wintertime with the thermostat up; if your home is a little chillier, you may want to add an extra blanket between the comforter and top sheet to keep your daughter warm.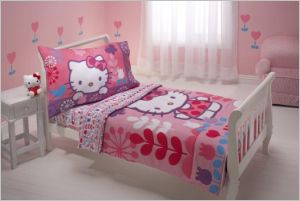 Hello Kitty Modern Garden Bedding Set
The Hello Kitty Modern Garden Bedding Set is more pink, with perhaps a bit more of a unified color scheme. Kitty is standing in a pink garden with pink flowers on the comforter, and in the pillow she's enjoying a pink background with starbursts. This set is also polyester microfiber, so super soft and cozy. 
Hello Kitty and Friends Bedding Set
The Hello Kitty and Friends Bedding Set is again soft polyester microfiber; the main difference between this and the two preceding sets is the graphics and color scheme. Here the primary colors are lavender and pink—the comforter being predominantly lavender—and Kitty is enjoying the company of two teddy bear friends. 
Another slightly different option is this Hello Kitty Toddler Bedding set; an adorable pattern and bold, bright colors including pinks, blue, and a bright, almost neon green. The pillowcase and comforter here are soft microfiber, but the sheet set is a cotton and polyester blend.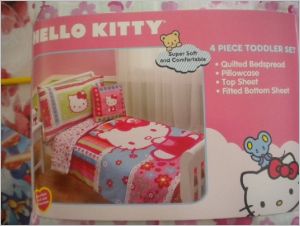 4 Piece Hello Kitty Bedding Set
When you've bought your Hello Kitty toddler bedding, where are you going to use it? If you haven't bought a toddler bed yet, you may be interested in Delta's Hello Kitty toddler bed --  a cute pink and blue bed that will fit perfectly with your new bedding. This toddler bed is low to the ground so your little one can get in and out easily, and fits a standard crib mattress--- which means it will fit that toddler bedding to a T. Two siderails keep your daughter from rolling out at night. This bed is sturdy plastic and with a steel frame, and is fairly easy to put together.  
It's all there, ready to be delivered to your door when you say the word. Then all you will have left to do will be to set up the bed, spread out the Hello Kitty toddler bedding comforter and sheets, and watch the beautiful surprise on your little daughter's face when she sees her 'Kitty bed' for the first time. 
Click here to return from Hello Kitty Toddler Bedding to Home Page