Infant to Toddler Rocker


Does an infant to toddler rocker deserve a place on your baby registry?

There are hundreds of different types of baby seats, rockers, and bouncers available. Many new parents end up with a wide assortment, only to discover that they have barely a chance to use each one two or three times before that fast growing infant has passed the weight limit. Then what to do with that infant seat? Sell it on Craigslist, give it to a friend, or save it for the next baby to use all of three times?
It's refreshing to see a baby product that's meant to be used over a wide age range. A rocker is designed to be used as a recliner and baby seat for a newborn, a play-center and rocker for an older infant, and a comfy seat or rocker for a toddler. Most can be used with your baby as soon as you bring him back from the hospital, and can continue to be used up to the time your child weighs about 40 pounds. 
Use of an Infant to Toddler Rocker
A good baby  to toddler rocker, like those made by Fisher Price, should be able to be used:
As an infant seat for baby to sit in while you're feeding him, reclined at a perfect angle to make feeding comfortable
As a more upright baby rocker, with a bar of toys in easy reach of baby
As a sleepytime vibrating seat
As a toddler rocker when your child has outgrown the infant seat
These seats are sturdy, easy to wash (the cover should come off and you can throw it in the wash) and strong enough to last from the time you bring home your squalling newborn to the day your toddler enjoys sitting it in it to watch his cartoons.
Infant to Toddler Rockers Available Online
The best infant to toddler rockers are all from Fisher Price, but they have a wide selection of patterns and styles so that you can find one that fits your nursery, living room, and family room.
Baby Pink and Brown Owl Soothing Vibrations Rocker
Baby Pink and Brown Owl Soothing Vibrations Rocker --- a cute pink  owl-themed rocker for a little girl, with brown accents. The removable toy bar on this rocker includes an owl on a tree and two fun flowers hanging from bird houses
Pink and White Bunny Rocker
Pink and White Bunny Rocker – this girl-themed rocker is a bit lighter colored, with bunnies and flowers for the prints; the toys include one battery operated toy that plays music and two flowers which can be pulled and pushed about.
Jungle Fun Rocker
Jungle Fun Rocker -- here the theme is jungle animals, and the seat is covered in a blue and brown jungle-animal print. The toy bar includes battery operated music playing toys.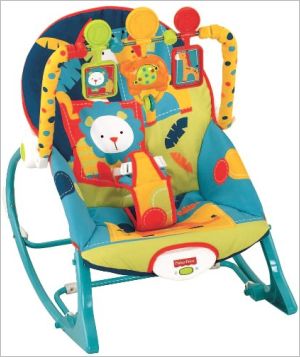 Dark Safari Rocker
Dark Safari Rocker -- blue and light green, this safari-themed rocker is one of your brightest options, and, like the Jungle Rocker, perfect for both boys and girls. 
Click here to return from Infant to Toddler Rocker to Toddler Furniture

Click here to return from Infant to Toddler Rocker to Home Page