Kidkraft Boat Toddler Cot


Sail away to dreamland! The Kidkraft Boat Toddler Cot is a fun toddler bed made in a very nautical design; your little one will feel that he has his own schooner to go sailing over the waves with when he becomes proud possessor of this bed. 

The Lowdown on the Kidkraft Boat Toddler Cot

Kidkraft Boat Toddler Bed
What is the Kidkraft Boat Toddler Cot like, and is it worth buying for your toddler? Those are probably the questions foremost on your mind.  All in all, this is a fairly high quality hard wood bed with a fun design, and it is sturdy enough to survive both your toddler's sleeping (easy enough) and his more rambunctious playtimes.  You'll feel comfortable sitting or lying on the bed yourself for storytime or an evening cuddle. 
There is a handy compartment at the bow, but it may or may not come with a hinge; if it doesn't have a hinge, it is better used for blankets or winter clothes than toys.
Other drawbacks? The decorative bedrails are a bit short, so if your toddler does his bit of tossing and turning at night you may need to add your own siderails.   Still, the bed is close enough to the ground to allow even a one year old easy access, which means that, should your child fall, he won't have much chance to get hurt. 
Nautical Bedding for Your Boat Bed
Once you've bought a Kidkraft Boat Toddler Cot you just may want to treat him with some very special nautical bedding and set up his room with a sailing theme. One nice option is the Come Sail Away 5 Piece Set from Sweet Jojo designs.  This is  a high-quality five piece set, including a toddler-sized embroidered comforter quilt, a toddler flat sheet, a toddler fitted sheet, a standard pillow case and a standard size pillow sham. The main color of this bedding set is chambray blue; there is also white, red, navy, blue, and yellow to be found on it. The colors work well with the Kidcraft Boat Toddler Cot.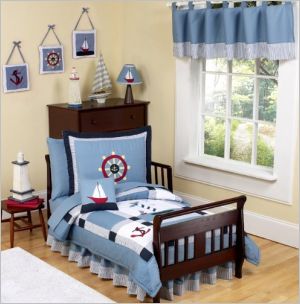 Come Sail Away 5 Piece Set by Sweet Jojo designs
If you prefer navy blue emphasis, rather than the chambray blue of Come Sail Away, you may prefer Nautical Nights Boys Sailboat Toddler Bedding, also from Sweet Jojo Designs.  This set includes the same pieces as the other: flat and fitted sheets and a comforter quilt in toddler sizes, and a pillowcase and pillow sham that fit a standard sized pillow.  The quilt has a sailboat applique and nautical embroidery, and the pillowsham includes a matching sailboat applique. The sheets will fit the crib mattress in your toddler cot perfectly.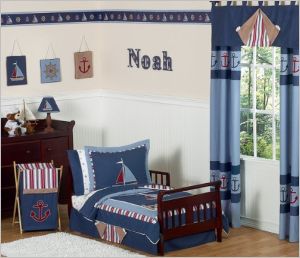 Nautical Nights Boys Sailboat Toddler Bedding by Sweet Jojo Designs
A Love of the Sea


Are you buying this bed for a toddler who hasn't felt the magic of the sea quite yet, but whom you'd like to see become enamored?  Take him out in a yacht one fine day and he should catch the spark with no problem, but if that isn't practical, there are always libraries and books.  Share books on boats, sailing, and the sea with your child, and soon he'll be as enamored with his new bedroom set up as you are. 

Click here to return from Kidkraft Boat Toddler Cot to Ideal Toddler Bed

Click here to return from Kidkraft Boat Toddler Cot to Home Page