Kidkraft Nantucket Toddler Table


A Kidkraft Nantucket Toddler Table is a square wooden table designed just for toddlers. Large enough to fit four little people around it, each in their own chair; low enough that those little people can get in and out by themselves, and can have their writing, eating, or playing surface just at their level.

It's nice to have a toddler 'center of activities' table that fits your child—or children- perfectly. But it's important that this table is usable by mommy and daddy too; no toddler likes to be completely alone and independent. The nice thing about the Kidkraft Nantucket set is that the table and the chairs that go with it, though it is smaller than the table you'd usually chose for yourself, it is sturdy enough that you can sit down with your toddler. 
Kidkraft Nantucket Toddler Table in Primary Colors
Using your Kidkraft Nantucket Toddler Table
How can you use your Nantucket table? Other parents enjoy using theirs for:
Snacks, and mealtime overflow when there are guests at the big table
Preschool activities
Coloring
Building with legos
Looking at books together
The dimensions of this table are 23.75 x 23.75, and the height is 19.6 inches. Each sturdy chair—and the set comes with four—have seats with dimensions of 11.5 by 11.5 inches,  11 inches up from the ground. The total height of each chair is 21.6 cm.  The recommended ages for this set are 36 months (three years old) to 8 years old, but there's no specific weight limit: these chairs are used by parents and older children too, when they sit down to play or read with the little people. 
Your Color Options
You can buy the Kidkraft Nantucket Table set in honey colored wood with chairs in four primary colors: red, green, blue and honey; or, if it better fits your décor, in white with chairs in pastal pink, sage, buttercup and skyblue.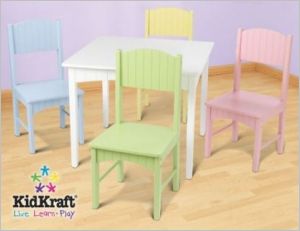 Kidkraft Toddler Table in Pastel
Assembly
When you order it from Amazon the Kidkraft Nantucket toddler table will come to your home unassembled, packed neatly in a cardboard box. It's up to you to take the pieces out and put them together, but there are fairly clear instructions provided. It shouldn't take you more than ten or fifteen minutes to put together a chair, and another ten or fifteen for the table. You'll want to be careful not to force any of the screws past the point where they sit firmly, or you may have issues with splitting wood or the top of screws coming out of the table surface. 
Staying Power
How much staying power does the Kidkraft Nantucket toddler table have? It's not a piece of sturdy, solid oak; it's a simple table made of manufactured wood, so it does have its limits.  That said, it is a fairly high-quality table for what you pay for. Treated gently, it can remain in pristine condition for a very long time. Treated roughly, it will likely still be quite usable for a long time, but do expect the paint to chip eventually, as it does off all wooden toys.  It is easy to wash, with a damp, soapy rag; since it is wood, though, you will want to dry it thoroughly if you used anything very wet to clean it. 

Have fun playing, eating, and making memories with your toddler on his very own toddler-sized table!
Click here to return from Kidkraft Nantucket Toddler Table to Toddler Furniture

Click here to return from Kidkraft Nantucket Toddler Table to Home Page