Kidkraft Tiffany Toddler Side Table


The Kidkraft Tiffany toddler side table is a sweet little table meant to fit beside your toddler's bed or beside her little toddler armchair.  Built in an elegant, old fashionedprincess style and with a white finish, this side table is almost doll-furniture in the fineness of its lines—but it may be a perfect fit for a petite little toddler as well.

The Kidkraft Tiffany Toddler Side Table: What's Good About It
What's good about the Kidkraft Tiffany Side Table for toddlers? To begin with, it is well made and sturdy, and the design is beautiful. There is a little drawer right under the table, a perfect place to keep  tiny little treasures—pens or crayons, or bracelets and necklaces, or perhaps some tiny dolls.   Deciding what to place in her special new drawer will likely be a very thoughtful process for your little girl. The top surface can be used for a bedtime story book, a little lamp, or a glass of water.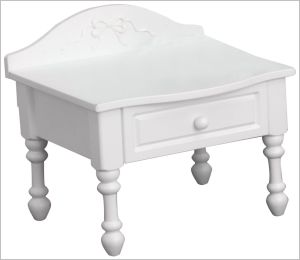 Kidkraft Tiffany Toddler Side Table
Assembly is a breeze—screw on four little legs, place the bow in place, and you're done.   Although this side table is made of solid wood, it's small enough that it's light and manageable to move from one place to another. 
The Kidkraft Tiffany Toddler Side Table: What's Not So Good
High quality, pretty to look at—got all that. So what's not good about it? The size. The height of the table, from floor to table top, is just 10 inches, so it comes short even for most toddler beds.  Every parent and grandparent that was dissatisfied with the surface seems to have disliked the size, so make sure it'll fit well with your existing toddler furnishing before pushing the order button: the official dimensions are 14 x 12.5 x 13.2 inches. Is that doll-sized, or is that the right size for your petite toddler daughter? It's your call. 
Not for You? You Have Alternatives
If, when you check and double check the dimensions, you realize that the size of the Kidkraft Tiffany side table is not appropriate for your needs, what should you buy instead?  The Adriana Youth Nightstand is a lovely  off white side table that may fit better with the furniture you already have.  The table legs are beautifully turned, and like the tiffany table, it has one drawer; it also has lower compartment or shelf where you could place a basket or some books. It comes fully assembled, and the dimensions are 20" by 16" and 26" in height.  
Adriana Youth Nightstand
If that is a little too big, another very similar nightstand just the tiniest bit smaller is the Lauren Nightstand: 20.25" by 16" and 22" in height, or, adding in the decorative crowned border against the back, 25" in height. Like the Adriana, this nightstand is made of wood and has a pretty scalloped design. The drawer glides are wood on wood,  and the finish (certified nontoxic) is a clean, bright white.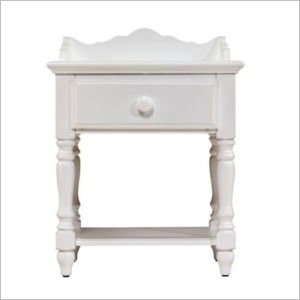 Lauren Nightstand
It's so much easier to stay in bed when you have, right next to you, the Important Things in your life—so buy a special, size-appropriate side table for her little girl and teach her that getting up is just for the morning!

Click here to return from Kidkraft Tiffany Toddler Side Table to Toddler Furniture

Click here to return from Kidkraft Tiffany Toddler Side Table to Home Page