Little Tikes Toddler Bed


A Little Tikes toddler bed is a good choice if you want a sturdy plastic toddler bed for your child that really is quality. It won't be your cheapest bed option, but it is a bed that will last as long as your toddler can fit into it, and it should be in good enough quality when he outgrows it that you can pass it on to a younger sibling or a very special friend.
A Bed or a Playplace?
One nice feature of a Little Tikes toddler bed is that it can double as a wonderful toy structure. Your toddler won't only be using his Little Tikes toddler bed to sleep in, it'll probably be Prime Location #1 for his daytime adventures as well. These beds are meant to appeal to the imaginative adventurer in our toddlers, and they're way more than just a place to sleep.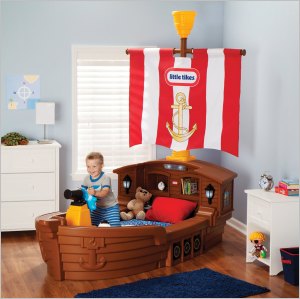 Little Tikes Pirate Ship Toddler Bed
Take the Little Tikes Pirate Ship Toddler Bed. It's a fully-fitted ship for your toddler's wildest adventuring games, complete with sail, ships wheel, and cubbies, and at the same time it's a comfy, cozy bed that will keep your toddler safe and comfortable at night. It's strong enough to handle several toddlers swarming over it in wild play, and is easy to keep clean—the smooth plastic surfaces will go back to their pristine condition after a wipe down with a wet cloth, no matter how many sticky-fingered sailors have been fingering the rails.  The working nightlights on this bed are a nice extra touch, especially for a toddler who is just transitioning out of a 'safe and secure' crib environment and needs a bit of extra hand-holding on the way. 
A Little Tikes Toddler Bed that Brings the Road to Your Child's Bedroom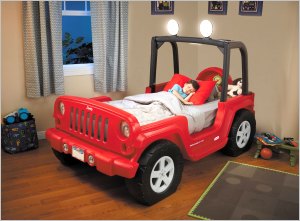 Little Tikes Jeep Wrangler Toddler Bed
Little Tikes also has a line of fun car beds that your children will love sleeping on.  One of these is the Little Tikes Jeep Wrangler Toddler to Twin Bed. This bed is bulkier than other toddler beds out there, but there's a reason: when your toddler outgrows his crib-sized mattress, all you need to do is convert the bed to a twin and put in a twin mattress: that mattress is the only purchase required.  The high sides of this jeep mean your toddler will sleep as securely as is his crib, and the door openings offer an easy in-and-out, and also give mom or dad a comfortable place to sit when tucking junior in and giving a bedtime kiss. The lights on this car are pretty cool too: two trail lots and one reading lot at the head end to give your toddler security at night when he hears monster noises.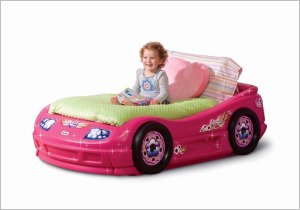 Little Tikes Princess Pink Roadster Bed
A smaller, more compact bed for little girls is the Princess Pink Roadster, a glittery, hot pink toddler car bed that is pretty much everything a speed loving, pink loving little girl could want. Although this bed doesn't have railings, it is low enough to the ground that your little girl won't get hurt if she rolls out. Another option is to skip putting a plywood or wood plank bottom in, and place your toddler mattress directly on the floor: then the car sides will serve as a safety rail. Solid, fun, and durable, this is a bed that will completely transform your little girl's room from ordinary to super cool. 

Click here to return from Little Tikes Toddler Bed to Ideal Toddler Bed

Click here to return from Little Tikes Toddler Bed to Home Page