Magnet Sets for Toddlers


Magnet Sets for toddlers are magical things.  The toddler years are a wonderful time to start your toddler in magnetic construction—he'll be fascinated by the way the pieces attract and repel, and he'll be able to develop his attention span and concentration abilities as he works on building his own creations. The only problem is that the magnetic construction sets we buy our older children are really not toddler safe. The pieces are so small that they can easily be swallowed, and the magnets are so strong that, once swallowed they could wreck havoc on our little one's insides.

If your standard magnetic construction set is not appropriate for toddlers, are there any which are? That was the question which motivated an extensive internet search. I found a set of quality Brio magnetic blocks that seemed safe for even the smallest of toddlers—but with only six or seven large shapes in the box, it seemed it would be boring after the first twenty minutes.
And then I stumbled on SmartMax, which appears to be everything you might ever have wanted in a toddler magnetic building set.
SmartMax Magnetic Building
A Smartmax basic set has all the standard magnetic construction pieces—rods in different sizes, round balls—so your toddler can let his or her imagination go wild. But instead of the tiny little pieces a standard set would have, every bit of a Smartmax set is supersized. Even the balls have a diameter of an inch and a half, so there's no way that any toddler could even begin to swallow them.  The pieces are all made of high quality materials and ultrasonically welded, so there's no way a toddler could take them apart either. 
And they're fun to play with. The magnets are strong enough that the bonds can carry up to sixty times their weight, but they aren't too strong for little hands to pull apart. 
What is the downside to SmartMax Magnetic building sets? So far, I've just found one—the price. If you want your toddler to really be able to build and experiment, you'll have to buy him lots of pieces—and lots of pieces come with a hefty price tag. 
This is a quality toy, though, and can be passed on through many generations of toddlers. 
Which Set is the Best Magnet Sets for Toddlers?
SmartMax Magnetic Set
Which SmartMax Magnetic Building Set is best? To start with I would recommend either the 42 piece Basic Set or the Basic Stunt, depending on whether you just want your toddler to experiment with basic building or whether he's into trucks and cars. 
The 42 piece Basic Set contains  12 long bars, 18 short bars, and 12 magnetic balls. There's also an illustrated guide to model building, just to get your child's imagination juices flowing.  If the price is too steep for you, 25 piece and 36 piece sets are available as well.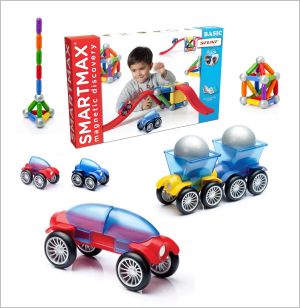 SmartMax Basic Stunt Set
The Basic Stunt set includes 42 pieces, but fewer basic bars and spheres: here you also have pieces that your child can put together to make his own magnet cars, and  two ramps for those cars to race up and down on. 
All SmartMax sets are compatible, so you can mix and match to your hearts delight. There are also supplemental sets of straight and curved bars available. 
Click here to return from Magnet Sets for Toddlers to Home Page