Portable Toddler Bed


A portable toddler bed is useful for any toddler, but it's especially important for a toddler who isn't ready for a full-sized, no-rails bed yet. If your little person is used to sleeping inside a crib or pack and play at home, traveling and staying overnight at friend's houses or motels will likely be more than a little stressful—unless you have  a portable travel crib suitable for toddlers.  

It's sometimes hard to find a portable transition bed that provides the containment you need. There are portable beds for kids available without sides; inflatable beds or cots that are made for independent four or five year olds to sleep in. And there are portable cribs for babies; often small, as small beds are easier to design lightweight. But a portable crib  or bed suitable for a toddler that provides containment? You have to look harder for that. 
But such things do exist, so if you search well, your search will be rewarded. Here we'll look at one of the best, a portable bed that provides comfort, security, and containment for a little person out making some of his first travels in the great big world. 
A Portable Toddler Bed That Keeps Your Toddler Contained Anywhere

A much loved, highly rated portable toddler bed, crib, and play yard is the Guava Family's Lotus Travel Crib and Portable Baby Play-yard. It's a portable bed that can be used from the time your toddler is a tiny baby up until he's ready to sleep on the hotel twin bed; a safe, sturdy crib that can keep your toddler clean, safe, and secure no matter what strange place you may be sleeping.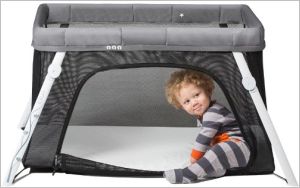 Guava Family's Lotus Travel Crib and Portable Baby Play-yard
Just some of the places the Lotus Travel Crib can be successfully used include:
A motel room when you're on a roadtrip
Grandma's spare bedroom, when you're on a week-long holiday visit
An airport terminal while you're waiting for a delayed flight
A late night party when you need a place to tuck the little guy away while the grown-ups finish a movie or enjoy an eleven o'clock dinner
A hut in the Amazon jungle when you're off on vacation (just tuck a mosquito net over the crib!)
The yard or balcony, if you'd like your child to get some fresh air while he sleeps
This portable toddler bed is essentially a play-yard, low to the ground, with a zippered door on the side so you can choose to let your toddler get in and out by himself. It takes all of fifteen seconds to set up, just a little longer to put away, and weighs only about 13 lbs total. It packs in a smallbag which fits the dimensions for an airline carry-on, and can either be carried around as a tote or as a backpack.
Cons? This bed isn't a standard size—it's longer and narrower than your toddler's standard crib or pack and play—and so you won't be able to use your sheets from home. This is pretty sad, since continuity in sheets is a wonderful way to make your toddler feel at home anywhere. The reasoning for the strange size is that it fits better in narrow places, such as hotel rooms. Maybe that extra length will help your toddler fit this bed longer too. 
Click here to return from Portable Toddler Bed to Toddlers Furniture