Princess Toddler Bed


Does your little princess needs a princess toddler bed? Just maybe she does. Little girls love pretty things as much as do big ones, and your little daughter might be absolutely thrilled to walk into her bedroom one day and find her plain and boring crib exchanged for a pink and white bed that looks like it belongs in a fairytale.

Making Over Your Toddler's Bed, Princess Style
If you already have a bed for your little girl and don't want to do any major furniture purchases at this point in time, you can subject your existing toddler bed or crib to a makeover that will leave it unrecognizable.  Buy gauzy material in white and pink, and get a roll of gold ribbon or edging  and some golden glitter as well. If the bed or crib is wooden, simple wooden planks, cut into long, thin, planks, can make a beautiful canopy. If your bed is metal or plastic, you may want to buy a canopy. Use the gauzy material to create a rich, frilly bedskirt and canopy, edged with gold and with glittery sparkles here and there. You can also paint the bed in white, pink and gold for added effect.
Buying a Princess Toddler Bed
Not a DIY-er, or would you rather make a two minute purchase then spend a week of afternoons working on your daughter's bed?  The internet was made for people like you; you can find almost any kind of toddler bed you might desire on Amazon.com, and a princess toddler bed is no exception.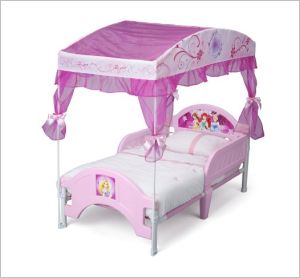 Delta Princess Canopy Bed
For a sturdy plastic bed with a pretty pink canopy, you have the Delta Princess Canopy Bed, a toddler-sized bed that is low to the ground, includes two half-length bed rails, and has a pretty pink and white canopy with pink gauze trim. The decals on the bed are of Disney princesses. This bed is easy to put together, and is gentle on the budget too; for a sturdy toddler bed for your daughter, you're not going to find much cheaper.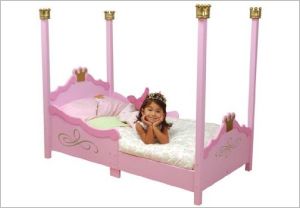 Kidkraft Princess Toddler Bed
Would you like a wooden? Have a look at the Kidkraft Princess Toddler Bed: a wooden bed with four pink and gold pillars rather than a canopy. The bed itself is pink and gold, with elegant crowns and scrolling. The scalloped edges and headboard also add a sophisticated princess touch. This bed is small; like any toddler bed, it fits a crib mattress, and is low to the ground to make for easy access and safe sleep, but it's also sturdy enough you'll be able to lie down with your daughter when it's storytime and share some special just-before-bed moments.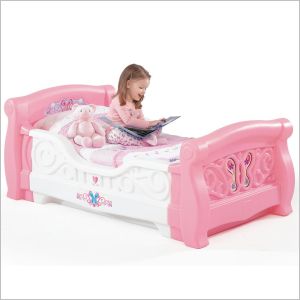 Step2 Girl's Toddler Sleigh Bed
Another plastic bed worthy of a little princess is Step2 Girl's Toddler Sleigh Bed, a lovely pink and white bed with delicate, molded in scroll work and fun decals. The bed is double-ply plastic, so very strong, and it'll set the tone for pretty princess decorating in your toddler's room. There are no pillars or canopy here, but this bed doesn't really need them; the princess effect is built into the low bed itself
Click here to return from Princess Toddler Bed to Ideal Toddler Bed