Skechers toddlers


Are there Skechers toddlers can wear? Skechers toddlers wear are little versions of the ones you wear, with a few minor changes to make them suitable for small, developing feet. They tend to be a little pricey for the size of the shoe you get, but they certainly are cute, and they generally wear well and are comfortable for the little people. Since you don't need to buy your child a whole wardrobe of shoes, you can get one or two pairs that are really quality.

The Rules of Shoe Buying For Toddler: A Run Down
Whenever buying shoes for toddlers, keep in mind these three things:
A good fit: Toddlers need shoes that fit well, so don't buy something extra-large in hope that you'll be able to  save money; 
Comfort: Your toddler deserves to be comfortable in his shoes; uncomfortable dress shoes are a definite no-no for little people
Flexibility: Since your toddler's feet are changing and developing day by day; flexibility is important: choose shoes with flexible soles and flexible uppers!
Of course, there's cute too, but that's almost a given—you won't be buying your toddler ugly shoes!
Shopping for Skechers Toddlers Will Love
You can buy skechers toddlers wear at many shoe stores. For the best selection, try  Amazon.com.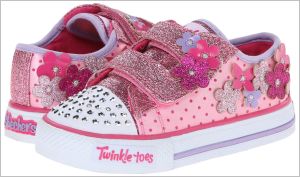 Skechers Kids Twinkle Toes Pretty Blossoms Light-Up Sneakers
If I were buying sneakers wear for my little girl (almost two) I would buy a pair of Skechers Kids 10472N Twinkle Toes Pretty Blossoms Light-Up Sneakers; a little sneaker decorated with "pretty flowers", as she would say, and with toes that light up when she walks. She thinks they are the cutest thing going in shoes, and I like that they'll match almost any outfit she wears. Causal enough for play in the park, nice enough to wear with a Sunday dress on more formal outings, this shoe is versatile to meet the bill for the 'one or two toddler shoes' that are my plan for my little girl's summer wardrobe.  And I like the Velcro closure; although my toddler isn't putting her shoes on herself yet, I appreciate the opportunity this gives her to learn to do it "all by herself"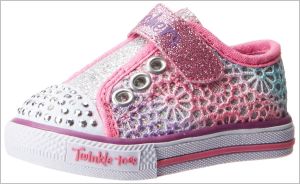 Skechers Kids Twinkle Toes Shuffles Spring Steps Sneakers
Another very cute option is the Skechers Kids 10426NTwinkle Toes - Shuffles - Spring Steps Sneaker with blinking Light-Up. These shoes also include the light-up feature so popular with toddlers, are as glittery as anything, and are made in a pretty textured textile; flowers in shades of blue and pink.  Your little girl will get compliments left and right when wearing these shoes, and she'll have fun stomping about watching the lights come on.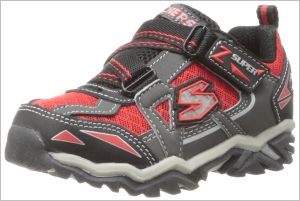 Skechers Kids Hawk Sneakers
Buying for a toddler boy, I might go with the Skechers Kids 90421L Pillar 2.0 - Hawk Sneaker with blinking lights. These sturdy sneakers look like a miniature version of daddy's favorite athletic sneaker, but they also have lights that blink in red, white, and blue—and what toddler wouldn't want that. You just might have trouble getting your toddler to take these off at  night. This shoe is part leather, part synthetic, and has a cool-looking Velcro closure. 
What is your favorite toddler Skecher? Tell us why.

Click here to return from Skechers Toddlers to Toddler Footwear