Sleigh Toddler Bed


A sleigh toddler bed is simply a toddler-sized bed with sleigh design; that is to say, with outward curved headboard and footboards reminiscent of old-fashioned sleighs. These beds are usually made of wood, and typically have two half-rails along both sides of the bed, containing the pillow end. The foot of the bed is usually open to allow a toddler to get in and out without any trouble, and to provide a place for a parent to sit for the goodnight story and routine.
When buying your sleigh toddler bed...
When choosing your toddler sleigh bed, find something that is:
 Durable—even if your child is only using it for two or three years, toddlers are rough with their furniture, so if you buy a flimsy bed you'll have to buy another.
Child safe—for a toddler bed, that means close to the ground, with adequate guard rails
Non-toxic – check to see the paints used are nontoxic, as toddlers have been known to chew on their beds.
Toddler Sleigh Beds You Can Order Online
You don't have to go to a furniture store to find a toddler  sleigh bed for your little one; you can order the perfect bed right from the comfort of your computer desk.   The bed will be delivered right to your door; if you choose the right one, you'll even get free shipping.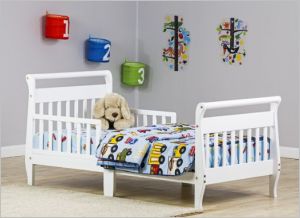 Dream on Me Classic Sleigh Toddler Bed
What are the best sleigh-style toddler beds? Perhaps the most popular is the Dream on Me Classic Sleigh Bed, a classic wooden sleigh bed that comes in eight color options: black, blue, cherry, espresso, natural, and pecan.  The bed is solid wood, and the paints are covered with a non-toxic finish. There are two side rails; they are not as long as they might be, but the bed is close enough to the ground that even if your child should take a tumble he wouldn't get hurt.
The main downside to this bed is that it is a huge headache to assemble; parents report that every piece of wood is separate, and even the headboard and footboard are major assembly jobs.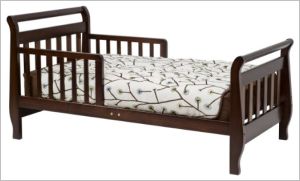 DaVinci Sleigh Toddler Bed
Another beautiful toddler sleigh bed which gets even better parent ratings—and is apparently much easier to assemble—is the DaVinci Sleigh Bed.  You have six color options: espresso, cherry, ebony, honey oak, white, and natural.  The bed is also solid wood, and here we have the promise of wood from sustainable forests. The paints are lead and formaldehyde free, and the finish is non-toxic. The style of the bed is very similar to the Dream on Me bed, and the rails are approximately the same size, though it has a slightly more open, less contained look.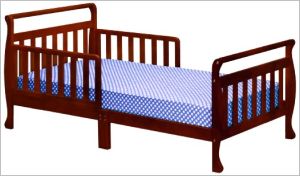 Athena Anna Sleigh Bed
Another classic-looking toddler sleigh bed is the Athena Anna Sleigh Bed, available, in black, cherry, espresso, natural, pecan and white. This bed may be again a bit more of a headache to assemble, but it is made of solid wood, also from sustainable forests, and the finish is non-toxic—no word on the paints.

Whatever toddler sleigh bed you end up choosing, it's sure to lend a touch of class and old-world charm to your little one's nursery or playroom.
Click here to return from Sleigh Toddler Bed to Ideal Toddler Bed