Toddler Art


The best toddler art supplies are often simple things you can find around the house. A sheet of plain printing paper is an extensive canvas for a little guy or girl, and can be enough—with a pen 'borrowed' from mommy's desk—to set their artistic imaginations going.

Still, if you want your child to enjoy art, it'll pay to stock a drawer with basic art supplies that are available to your child whenever he or she is touched by the muse. The drawer should include:
Paper: white, colored, thick and thin
Glue: gluesticks are wonderful for toddlers, but sometimes you need bottled glue as well!
Washable markers
Crayons: a wide assortment
Paints for when you're feeling brave
Playdough, or home-made playdough in a sealed tub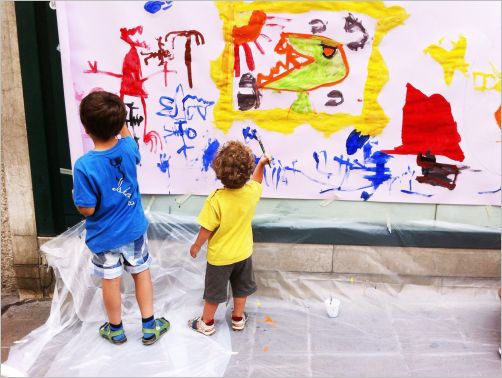 Those are the basics. Ofcourse, there are many wonderful things you could add as well; browse through any craft store and you'll find a thousand little tidbits your toddler would love to use in his projects! If you're always adding to the drawer, your toddler can look forward to special surprises to spice up his projects.
Basic Supplies for Toddler Art: A closer look

Here we'll look at just three items on the list; paper, washable markers, and crayons. You can order these online, and begin stocking your toddler's craft drawer without even making a trip to the store!
Paper—Plain white paper is essential for toddler craft projects, and if you buy in quantity you won't have to worry about running out, or feel frustrated by the endless 'wasted' papers that your toddler spends in scribble scratches. Those scribble scratches are just as important as your child's later masterpieces, so don't belittle them. Just get a box of copy paper—something like Double A Copy Paper, where a nice compact box contains five reams; all of 2500 sheets. 
But don't just limit your toddlerart work to plain white paper—get some colored paper too! For regular weight colored paper, a beautifully bright selection is Neenah Astrobrights Premium Color Paper Assortment in Happy Colors. Here you get 500 sheets in five bright and happy colors. Or, for a thicker construction paper, there's your standard Crayola Construction paper in assorted colors, where you get 240 thick sheets in 10 standard colors.
Markers-- When you're buying markers for a toddler you want something with bright colors, a broad tip, and—extremely important—something that is washable. Crayola washable markers are pretty much the gold standard as far as that goes, and though your toddler may go through them like anything, they are budget friendly enough to allow purchase of multiple packs.
Crayons—What about crayons? Here we'll go with Crayola again, the tried and true, and avoid any unpleasant surprises. If you want your child to have lots of variety in his drawings you will probably want theCrayola Telescoping Crayon Tower: crayons in 150 different colors. The case is a clear plastic tower that makes it easy even for messy toddlers to clean up into. Besides 118 regular crayons, there are also 16 fun glitter crayons and 16 in metallic colors.
When you've ordered those three things: paper, markers, and crayons,  you won't have everything for toddler art yet, but you certainly have enough to let your child release his or her inner muse. 
Click here to return from Toddler Art to Toddler Resource Cabinet