Toddler Astronaut Costume


A toddler astronaut costume can be the stimuli for lots of exciting imaginative games, besides being a fun outfit to wear for Halloween or masquerades.  You can make your own astronaut costume out of some cardboard boxes and paint, or, if you want something a little more real looking, you can order one on Amazon. 
A Toddler Astronaut Costume: Our Selections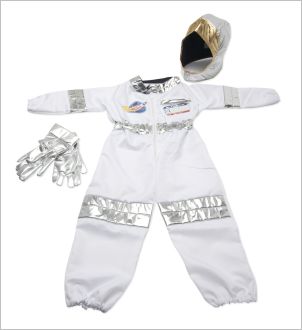 Melissa & Doug Astronaut Role Play Set
If you want a costume that your toddler can play with every day and that you can throw into the wash when it gets dirty, Melissa & Doug Astronaut Role Play Set is ideal. Although it's called a play set, it's simply a costume: an astronaut jumpsuit, gloves, and soft helmet. This costume is designed for endless hours of play, however, and so is made to last. The one size fits children from 3 to 6 years, and though it may be a little baggy at the lower end of the spectrum, the elastic cuffs help it to stay in place. 
Want astronaut boots to complete the costume? They're right here, waiting for your order, and your toddler will love strapping these on and then jumping out onto the 'moon'. Actually, although they look like the real thing, these are not boots but rather shoe covers, and your toddler can wear them over his boots outside – they have no sole, but are kept in place by straps—over his slippers in the house, or even on bare feet in the playroom. 
If the Melissa & Doug toddler astronaut costume is not quite what you want for your child you can also buy one from Aeromax, the makers of the boots. This Astronaut Suit comes in a variety of sizes, and is also fairly sturdy, washable material. Although the costume comes with an embroidered baseball cap, a plastic Astronaut helmet will probably be very much appreciated by your young explorer.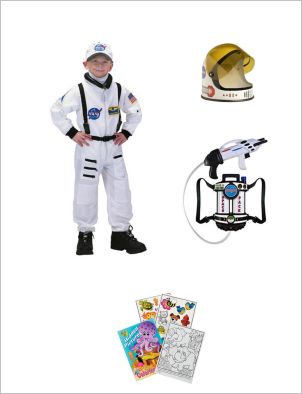 Aeromax White Jr Astronaut Set
In fact, if you've got a fairly generous budget and would like your child to have richest playtime possible, you can buy the Aeromax White Jr Astronaut Suit Age 2-3 Cap, Waterpack, Helmet, Coloring Book. This set includes Aeromax's suit, cap, and helmet, as well as a very cool space waterpack that your toddler can strap on his back. The non-space-related coloring book seems to be thrown in as a bonus. You'll still need to buy the boots separately for a complete astronaut effect, but otherwise, your toddler is good to go with this.  
Once you've done your shopping, what can you do to make sure your child is able to completely enjoy your toddler astronaut costume purchase when it comes? Go to the library and check out a stack of astronaut books at your child's level; then spend time with your toddler reading aloud and enjoying the pictures together.  Get a couple of big refrigerator boxes from your local store and craft a spaceship; be as fancy as you like, but if you can't do anything but set it up in your playroom and say 'there is your spaceship' your toddler is still likely to take it from there and have a blast. Once you've got him started, your toddler will be ready for hours upon hours of wonderful imaginative play. He's at the frontiers of science, making new discoveries, undertaking new challenges, and there is no one who can stop him. 
Click here to return from Toddler Astronaut Costume to Toddler Costumes

Click here to return from Toddler Astronaut Costume to Home Page