Toddler Backpacks for Kids
There's something ridiculously cute about  toddler backpacks. Your child isn't all that good at carrying weight around just yet, so it's more fun than functional, but carrying a backpack somehow makes him feel on top of the world. It makes him feel he is someone significant, grown up, and in control.
Taking a backpack to preschool is, for your child, a very important part of growing up. The backpack is all his, and has all the gear that he 'can't do without'. And a special backpack means he is special too.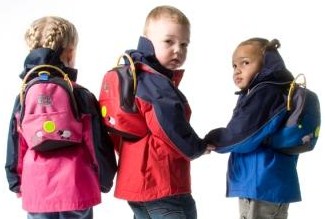 You'll have the widest possible selection of backpacks if you shop online; so have fun browsing the store below. What backpack you choose will depend on your child's own interests, and you should be able to find one that's just perfect for your toddler.  But there are a few more things you should keep in mind when shopping for backpacks. 
Toddler Backpack Shopping Tips
• Look at the material. Cotton or denim is nice and breathable backpacks for tots, but it isn't waterproof and you'll need to throw it in the wash when it gets dirty. PVC can get sweaty, but it can be wiped clean and will keep the rain out of your child's special treasures. If you're environmentally conscious though, you probably know that PVC is one of the least eco-friendly plastics—lots of toxic waste is produced during production, and it may even be leaching toxins when your child is using it.
• Check how many pockets there are, and if they are appropriately sized for whatever your child will want to keep in them. Pockets can help unorganized little people stay neat and organized, and mean that your toddler may not have to dump everything out of his backpack to get to that snack apple.
• Check the snaps, Velcro, and zippers. You'll want closures that are easy for your child to open and shut by himself, and at the same time sturdy enough that they won't fall apart. If the fastenings on backpacks don't come open easily, toddlers tend to force them—so they really need to be top quality.
• Check the size. Make sure the backpack is big enough it can fit everything your toddler will want to put in it, and at the same time small enough to be manageable. 
The Many Uses of Toddler Backpacks
When you're buying a backpack and trying to decide what size is best and how many pockets it should have you'll want to think about when your toddler will use it. If your toddler is going to preschool, of course, it may be his preschool bag, and you've probably got a list in your head of the things he has to take with him each day. 
If your child is not going to preschool, though, it gets a little more complicated. Your toddler will still love having a backpack, but what kind you get will depend on how he will be using it.
If it'll be an informal explore-to-the-north-pole backpack, to wear when playing about the house or to carry a sippy cup and snack during a trip to the playground, you may want to get a small one-compartment backpack in your toddler's favorite style. But if he goes on lots of longer outings or enjoys sleep overs, a bigger backpack with separate places for pajamas, flashlight and toothbrush might be nice.
Some toddlers also love to use their backpacks to store their special things in, and if this is the case with your toddler, you'll want a slightly larger backpack with lots of differently sized pockets to stash all his treasures safely.  
Have fun looking through our Amazon store (below) for the most fun, most practical little toddler backpacks for your own toddler!
Leave Toddler Backpacks for Preschool