Toddler Bathrobes
My little guy loves his toddler bathrobes. I don't know what it is—the fluffy softness, the cute cut, or just something about a piece of clothing that is only worn for a very special occasion—the half an hour after the bath when he's still damp, wet, and feeling squeaky clean. 
You can use bathrobes for just-out-of-the-bath time, or, especially if you live in a drafty home, you can have your child put his on when he jumps out of bed and wear it till he gets dressed in daytime clothes. It's cozy and comfortable; the perfect clothes for morning snuggles if pajamas is just a little too thin. 
When buying a toddler bathrobe, check that it is:
• Comfortable: a scratchy, itchy bathrobe is no fun for anyone
• Easy to Wash: bathrobes for kids should always be perfectly clean, which means you might be putting your child's in and out of the wash machine a lot
• A Match For Your Child's Style: A bathrobe that 'fits' your child's style will be much easier to convince your toddler to put on than one that just doesn't!

Buying Toddler Bathrobes for Your Little One
For the widest possible selection of bathrobes for kids, try shopping online! You get to choose from clothing being sold in the next town and that which is being sold in shops a half a country a way. The only downside, of course, is that you don't get to see what you've bought till it's delivered. That's why it's important to read customer reviews and find out what is worth the price and what really isn't. Here are reviews for a few bestselling bathrobes that both toddlers and parents love.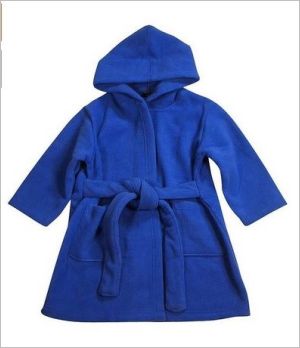 WXY Baby-boys Hooded Fleece Robe
For a hooded bathrobe, one nice budget-friendly is the WXY Baby-boys Hooded Fleece Robe. Though this robe is listed as 'boys', there's no reason it wouldn't be just as appropriate for little girls as well; it just doesn't come in pink. Parents are nearly unanimous in giving it five stars: it's soft and comfy; though the material is not plush and it's not toweling. It's a good practical, all-purpose robe for children who don't want to much babying. The sizes tend to run large; not a bad thing in a bathrobe. Made of polyester, this bathrobe can be chucked in the wash with your child's other laundry and even go in the tumble dryer. It comes in lots of colors: charcoal grey, dark green, lavender, 2 different multi-stripe patterns, periwinkle, purple, forest green, blue, and light blue.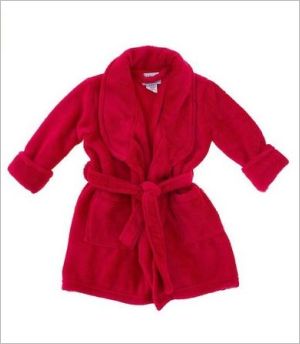 Cozytime Toddler and Girls Sizes Bathrobe Plush Coral Fleece
Don't want a hood, and want something that sets the bar way high where soft and cosy is concerned? Try Cozytime Toddler and Girls Sizes Bathrobe Plush Coral Fleece, a deep red bathrobe in the soft coral fleece that makes you feel like you're wearing unspun wool. Though this is listed as a 'girls' item, it's just as appropriate for little boys. It has a shawl collar, big pockets, and a sash which ties at the waist. 
Which style of toddler bathrobe goes best with your child? Buy the right one, then have fun cuddling up, squeaky clean after the bath, for storytime!