Toddler Bed Sheet


A toddler bed sheet may seem just a simple little sheet; a little crib-sized thing that can be scrunched up in a very small space. And that's all it is. But choosing the right bed sheet is still very important, because it makes your toddler's bed the special place it is to him. If you travel and need to put your toddler in a new or temporary crib one night, take that bed sheet from home with you, put it on the new bed, and your toddler will feel at home immediately. There's something special about sleeping on his own sheets, and your toddler is likely to appreciate it so much that he sleep much more peacefully than he would on strange and unknown sheets in a strange and unknown bed.

A toddler bed sheet is also an opportunity to decorate the bed with something fun, whimsical, or pretty; depending on the kind of toddler you have and what you'd like to make the bed like. Your options in buying bed sheets include:
Material: do you want cotton, or is soft polyester microfiber ideal for your toddler?
Patterns: do you want plain colored bed sheets, sheets with your child's favorite cartoon characters, or something that just looks nice on the bed?

Where to Buy a Toddler Bed Sheet for Your Toddler's Bed
Where can you buy a toddler bed sheet for your toddler's bed?  Almost anywhere. Well, not at the supermarket, and not at the pharmacy. But bed sheets for kids are available in general stores like Wal-Mart and Target, and if you want a wider selection, you can go to home décor stores like Bed Bath and Beyond. Or, to save your legs and the gas bill, you can go to Amazon.com and have the largest selection of all.
Nojo 3 Piece Crib Bed Sheet Set
If you want your toddler sleeping on 100% cotton and like plain white sheets, the Nojo 3 Piece Toddler Sheet Set may be exactly what you are looking for. This is 220-thread count cotton, so not super-soft, but not scratchy either. You can throw these sheets straight into the wash with like colors.  The set includes a flat sheet, a fitted sheet, and a pillowcase.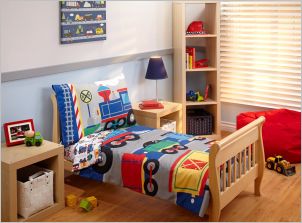 Everything Kids ChooChoo Bedding Set
Want something—I don't know—more exciting? If you're little boy or little girl is into trains, you may have no better way to thrill him or her than with an Everything Kids ChooChoo Bedding Set. This isn't just a toddler sheet set; you also get a matching quilted comforter in the package. All of it is cozy soft microfiber, and the trains are fun looking and bright colored. The background on the pillowcase and comforter are grey; the sheet and fitted sheet are white, but both have brightly colored trains over them.
If you'd like something not quite as busy as the ChooChoo set, not quite as boring as Nojo's white, you may want to look at the Skip Hop selection: choose from ladybug (red, pink, and dotted-line tear drops on cream), monkey (tan and cream banana-shapes), or Owl (red polka dots). These sheets are a polyester cotton blend; soft, but not microfiber. They wash well, and look nice on your toddler's bed: nice, but not too busy. Each set includes a flat sheet with an elastic bottom (a wonderful trick to keep the sheet from riding up), a fitted sheet, and a standard pillowcase.
Share to us your toddler's favorite bed sheets.