Toddler Beds for Girls


There are so many wonderfully cute toddler beds for girls available that if you're trying to transition your small princess out of her crib, you've nothing to worry about but how to choose.  

But even the choosing doesn't have to be that difficult. Before you begin, think about what's important to your little girl. Is she all about Frozen, and would she be happy living in an Elsa gown if you would let her? Or could she care less for that, but carry her hello kitty stuffed animal with her wherever she goes? 
If you're not into cartoon characters, you've got some beautiful choices of toddler beds for girls in a more traditional childhood style. Would a dollhouse bed tickle your child's inner soul, or would she feel she was a princess in a princess bed? Set up these lovely wooden toddler beds with some matching fairy tale bedding, and your little girl's bedroom will be a magical place out of a storybook. 
Here we'll look at each of these toddler beds for girls; all the information you need before you decide what to buy.
Toddler Beds for Girls: Top Four Picks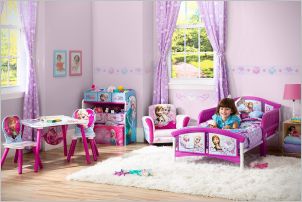 Disney Frozen Toddler Bed by Delta
The Disney Frozen Toddler Bed is an easy to put together bed that will make any Elsa or Anna fan feel extraordinarily special. The frame is steel, with sturdy plastic headboard, footboard, and side rails; and there's a cute Frozen canopy over the top, and tiny curtains tied with purple ribbons. It takes a standard crib mattress, and is low enough to the ground you won't have to worry about your little one getting in and out. Pair this with some Frozen toddler bedding for the complete effect.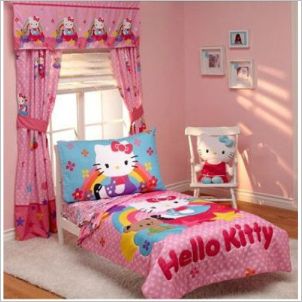 Hello Kitty 4 Piece Toddler Bedding Set
For your little Hello Kitty enthusiast, there's an ultra-cute bed in a simple, toddler friendly design available from Delta. This is another combination of steel and sturdy plastic, and since there isn't a canopy to worry about this should be even easier to setup than the frozen bed. Although the weight capacity is 50 lbs, parents describe it as sturdy and say they are able to climb up next to their little daughters for bedtime story routines.  Match this one with a colorful Hello Kitty 4 Piece Toddler Bedding Set, and your little kitty lover will have everything she could wish for in a bed. 
No plastics, no stickers, no cartoon characters for you? Then put your fairytale princess to bed in her own lovely pink and gold princess bed. No-one but a princess could sleep in a bed this fine, and your daughter will love the decorative gold designs and the four pillars that surround her as she sleeps. Two beautifully contoured bedrails will keep her from rolling out at night, and the entire bed is so low to the ground it's easy for little legs to climb in and out.  A Paisley Toddler Bedding Set  would go beautifully with this bed, or, if you want a story book twist, try the Everything Kids Fairytale Bedding Set. 
Kidcraft's Dollhouse Bed
A little girl who is all about dolls and dollhouses will feel at home immediately in Kidcraft's Dollhouse bed.  The siderails here are  white picket fences, the foot board a gable with a widow and some garden flowers, and the headboard is the dollhouse itself which your little girl can set up and play with to her heart's delight.  Three rooms and an attic; there's plenty to work with here. The entire bed is beautifully designed with little dollhouse details here and there, and the difficulty will be getting your little girl to put her dollies to sleep and fall asleep herself. You'll want some bedding that isn't too busy to go with this beautiful bed:  Baby Doll Heavenly Soft Toddler Bedding  may be a good option. 
There you have it: four beautiful toddler beds for girls, each lovely and yet so different. Buying toddler beds for girls in your little girl's own personal style is a way of expressing to your daughter how much she is special and loved. 
Click here to return from Toddler Beds for Girls to Ideal Toddler Bed

Click here to return from Toddler Beds for Girls to Home Page