Toddler Bike Helmet
A toddler bike helmet is more than an optional accessory. If you want to go on bike rides with your toddler you'll need to put on your helmet, and you'll need a tbike helmet for your little guy too. It's important to start safe habits early, and even if you could get away with 'doing without' you don't really want to.
Starting Good Habits Early
Do they sell toddler bike helmets? They do, and if you bill them as something exciting, fun, and even cool, your toddler will love wearing his.  You can even let him choose from the wide variety of colors and patterns available. 
The best motivation for your toddler to wear his bike helmet is for you to wear yours. Toddlers are imitators at heart, and they want to do everything just like mommy or daddy do. Be consistent about your safety, and your toddler will be consistent about his own. 
What You Want in a Bike Helmet for Your Toddler


When buying a specialized helmet for kids, look for something safe, sturdy, and also comfortable; if your toddler is fighting the helmet every time you put it on, no-one is going to go out for a relaxing ride. Since your toddler is much smaller than a schoolchild, he'll need a smaller bike helmet too: buy something that is a good fit. It should also be adjustable so that you can use it for a few years, changing the adjustments as your toddler grows, but don't expect it to last till he's twelve.  Here, then, is your basic checklist of requirements:
Safe and sturdy
Comfortable
Good fit
Adjustable
When you've got that, you've got a winning toddler bike helmet. 
Buying a Toddler Bike Helmet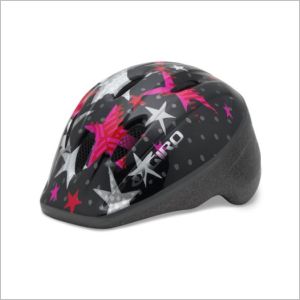 Giro Me2 Cycling Helmet
One of the biggest names in bike helmets is Giro, and the GiroMe2 Cycling Helmet is a helmet that is especially designed for infants and toddlers, with special adjustment options so you can get the perfect fit for your little one's small head. The helmet is lightweight enough your toddler shouldn't feel uncomfortable wearing it, and it is designed with vents in the same way as your larger bike helmet.  You can let your child choose between such designs as black with pink stars, light blue with animals, matte blue, matte blue hammer, glowing red camo, pink leopard, and firefighting monkeys. 
Lazer BOB Infant Helmet
If you want something especially designed for bike trailers, look at the Lazer BOB Infant Helmet: an adjustable infant and toddler helmet your child should be able to wear till about two.  This helmet has a rounder shape, and is designed to allow your child to rest his or her head against the back wall of the trailer comfortably.  Since this bike helmet is designed to be worn when your toddler is in the back and you can't see him, it's designed to stay on: and it does. It's also quite comfortable, so your toddler probably won't be fighting it as he might fight something like the more awkwardly shaped Giro. There are color options here too: flowers, dots, checks, aquarius and more.