Toddler Boy Room


Decorating a toddler boy room can be pretty exciting if you let yourself go all out.  No one knows better than you what your little boy loves, and no one can do a better job making a place that he feels loved, significant, and safe.

Beginning with the Basics
The focal point of a toddler boy room is usually the bed. If your toddler has outgrown his bed and isn't ready for a full-sized bed yet, this might be a toddler bed. The fun thing about these is that you can find them in so many fun and fantastical styles. We've reviewed many of these toddler beds for boys, for example:
• Race Car Toddler Bed
• Kidkraft Firetruck Toddler Cot
• Kidkraft Boat Toddler Cot
• Thomas the Train toddler bed
Go on from there to your toddler bed sets. These are fun sheet sets that you can buy to coordinate with your toddler's bed, or, especially if you have a more basic bed, to set the tone for the toddler boy  room.   You can choose from such things as Nemo sheet sets, Mickey mouse toddler bedding, Firetruck toddler bedding or Train toddler bedding. Olive kids toddler bedding is a good choice for families which appreciate old-fashioned cotton sheets and fun,  non-cartoonish patterns.

On to the Fun: Choosing Decals for a Toddler Boy Room
Well, choosing a toddler bed and toddler bed sets should have been pretty fun too, but when you're done with that (and before you've actually set up the bed) you get to go on to paints, decals, curtains, and rugs. There's not much to be said about paints here: you know the routine,and can choose the perfect shade of child-safe no-lead paint from your local home improvement store.  But decals? There the power of the internet can really help you make the best choice, as there are so many fun decals available online.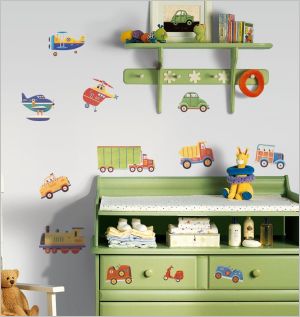 RoomMates Transportation Peel & Stick Wall Decals
RoomMates Transportation Peel & Stick Wall Decals are one very toddler-friendly option. This set includes 26 different transportation vehicles in bright colors, and the vinyl stickers are as simple to stick on as anything: just peel off and place in position! If you change the furniture around later and want your decals somewhere else, you can peel off and place in your new location without (so the advertising reads, anyway) leaving any sticky residue. As for almost any wall decal, you do need a smooth surface for these to stick properly.

RoomMates Transportation Stick Border
Then add a dash of color and a unifying effect to the room by putting up the RoomMates Transportation Stick Border. This  coordinating border has your vehicles driving across green hills against a blue sky backdrop while planes (or is that blimps?) fly overhead. The peel-and-place border is 5 inches long, and you'll need to buy enough fifteen inch sections to go around the room.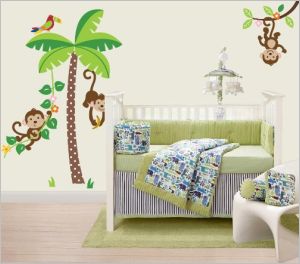 CherryCreek Decal's Jungle Monkeys Giant Peel & Stick Wall Sticker Decal
But though many are, not every male toddler is all-excited about transportation. If you or your little boy would rather a jungle theme, you can go with CherryCreek Decal's Jungle Monkeys Giant Peel & Stick Wall Sticker Decal. With a large palm tree, three cheerful monkeys, a parrot lion, and zebra, this jungle selection will brighten up your toddler boy room as soon as you get it up—and it's another easy-on peel and stick decal, so there should be no trouble there! One thing that I like about this set is that you can easily extend it with extra monkeys from the Monkeys Swinging Vines Sticker Decals set, so even if your toddler's room has lots of blank wall area to begin with, you should have plenty of action going on before you're done. 
Wasn't that fun? Decals are really the easies way to transform any toddler boy room, making those four boring walls into something that will really reverberate with your little man.